Articles / News / Cuba / Cuba Forecasts Tourist Industry will Keep Growing Trend
---
Tuesday, March 27, 2012
Cuba Forecasts Tourist Industry will Keep Growing Trend
---
---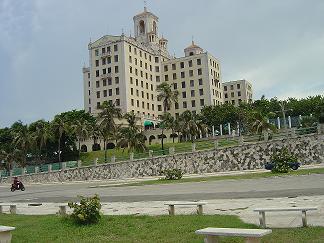 Havana, Cuba, Mar.- Cuba's Tourism First Deputy Minister Alexis Trujillo said at a press conference at the Hotel Nacional de Cuba that the tourist industry will keep the growing trend it has shown in the last years.


Trujillo addressed dozens of journalists that are in Cuba covering the Benedict XVI trip to Cuba, and said that after a slow start in January, the number of visitors have increased by almost 4 percent compared to the same period last year.

The official said the Cuban tourist industry suffered due to the world crisis, and though the number of visitors grew, the revenues didn't. "The revenues didn't grow at the same pace than the amount of visitors, but still we grew 11.9 percent. Now we have a more favourable situation and this far into the year, revenues are 12.2 higher than last year, which we see as a good sign"

He announced that Cuba plans to have 25 000 new hotel rooms throughout the country by 2020, using foreign and government investment capital.

Besides having more hotels, Cuba will develop all infrastructures related to the tourist industry, including 13 golf courses, already in different stages of negotiation, and several theme parks, he added.

He highlighted the fact that the number of visitors keep growing despite the decrease the industry is facing worldwide. "The number of tourist have kept a steady 10.5 percent growth a year since 1990, and in 2011 2.7 million people visited Cuba, for a 7.3 percent increase"

Also, he explained the different actions the country is undertaking to develop areas that have the potential to become attractive spots, as part of the strategy to diversify offers and markets.

On that regard, he mentioned the boosting of nautical and diving activities, city tours and others that are greatly demanded by visitors.

There has been an increase on the number of Russian and Argentinean tourists, a 40 and 30 percent, respectively.

Addressing foreign investment, Trujillo said that out of the 58 000 hotel rooms Cuba has under exploitation today, 6 000 are owned by some 30 joint ventures, and they expect this number to grow as well. (ACN)


More from this section ...
---
Add your comment ...
---
Latest ...
---
Most viewed ...
---
Archive ...
---