Articles / News / World / Three NATO Soldiers Die in Afghanistan
---
Wednesday, August 8, 2012
Three NATO Soldiers Die in Afghanistan
---
---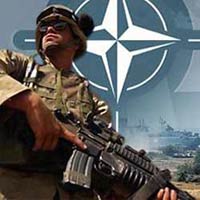 Kabul, Aug 8.- Sources from the North Atlantic Treaty Organization (NATO) confirmed the death of three soldiers during rebel attacks in Kunar province.

According to a report, four other people died during the bomb attacks, but the nationalities of the deceased soldiers were not specified.

The attacks occurred near the provincial seat of the government in Kunar, in Asadabad locality. Icasualties website notes the NATO death toll has reached 281, with 215 of the casualties Americans, whose troops comprise almost two thirds of the 130,000 NATO soldiers in Afghanistan.

On the other hand, President Hamid Karzai appointed Enayatulá Nazari Minister of Defense after Abdul Rahim Wardak's resignation.
(Prensa Latina)
Recent ...
---
Most read news ...
---
Archive ...
---