Articles / Sc. & Envt. / Tecnology / Camagüey: Stronghold of Cuba's Movement to Economize the Use of Water
---
Friday, August 10, 2012
Camagüey: Stronghold of Cuba's Movement to Economize the Use of Water
---
---
By Pablo Cabero Viamontes/Radio Cadena Agramonte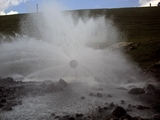 Camagüey is a Cuban stronghold in economizing water resources, and is the island's second major fresh water reserve, just behind Sancti Spíritus province in the central part of the country. Besides it has the greatest number of facilities in this sector, including 49 dams, approximately 160 mini-dams and other 80 different reservoirs, claimed Irvins de la Victoria Gómez, who chairs the Cuba's Institute of Water Resources (INRH) in Camagüey.

According to De la Victoria Gómez, the INRH will be celebrating its 50th anniversary on August 10, and today one can see the infrastructure that has been built over the last years in this province to ensure water supply for the human consumption, the industry, the agriculture and other development programs.

In this regard, he referred to dams such as Jimaguayú, Amistad Cubano Búlgara, El Porvenir, Mañana de la Santa Ana, Muñoz and Máximo, which have been deemed as facilities of excellence and also references for others across the country, because of the service they render. In addition, these dams and reservoirs help to alleviate the damages caused by hurricanes and pouring rains, for they act as regulators of torrents.

Irvins de la Victoria said that over the last five years the institution has been working to keep the safety of water for human consumption above 95

percent, and the workers of this sector in Camagüey are a trained force capable to do anything to improve the water resource program.   

Investments amounting to million Cuban pesos have been done in 2012 to eliminate losses and continue rehabilitating pipelines in Camagüey administrative centre, to end up the Las Flores water regulator which is vital for the rice development program, the pipeline of fresh water that reaches Santa Lucia beach resort and the urbanization of newly erected settlements.

Large sums of money have also been invested to repair and maintain other facilities and equipments, such as sluice gates and other machinery. Besides INRH workers have done rural aqueducts, such as those laying in San Bernardo, Sibanicú, with which more than 1,000 people have drawn benefits.

Because of their comprehensive results, Camagüey - the Cuban province flaunting the best of results in this sector in 2011- was chosen as the host province to hold the national ceremony marking the Día del Trabajador Hidráulico (day of those working in the water supply sector) to take place on August 10th and celebrate the 50th anniversary of the INRH.


Recent ...
---
Most read news ...
---
Archive ...
---