Articles / News / Cuba / Agricultural Diversification Cushions Climate Change Effects
---
Tuesday, May 14, 2013
Agricultural Diversification Cushions Climate Change Effects
---
---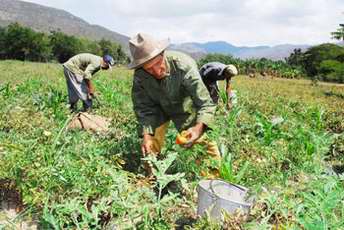 Havana, Cuba, May 14.- Cuban experts insisted in the need to diversify agricultural production as a way to mitigate climate change effects and increase the local food supply to the population.
The strategy allows securing stable food supply in the event of tropical storms, said the director of the Tropical Vegetable Research Institute Sergio Rodriguez during the opening session of the 12 International Conference on Food-related Science and Technology, underway in Havana.

Crop cultivation must be in tune with the characteristics of each zone in order to gain efficiency and sustainability, said the expert at the forum, which gathers specialists and students from Cuba and another 15 nations.

Rodriguez said that the diversification of varieties and species guarantees a direct source of energy and nutrients, and contributes to food security for the families, because the crops can be cultivated in small plots of lands on small amounts of resources.

The lands being dedicated to the National Sub-urban Gardening Program are very appropriate to encourage this practice, said the expert.

Rodriguez recalled that the Cuban state dedicates millions of dollars each year to purchase foodstuffs at the world market, which suggests the need to increase local productions in order to lower the costly imports.(ACN)

More from this section ...
---
Add your comment ...
---
Latest ...
---
Most viewed ...
---
Archive ...
---