Wednesday, October 1, 2014
UN: Belize, Barbados Condemn U.S. Blockade Against Cuba
---
---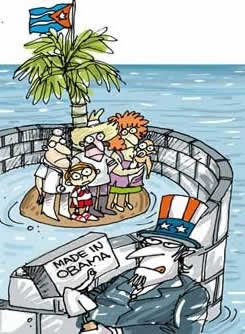 United Nations, Oct 1.- Belize condemned today before the UN the continuous U.S. blockade against Cuba and the Israeli indiscriminate attack at innocent civilians in the Gaza Strip.

In his speech during the 69th period of sessions of the UN General Assembly, Foreign Minister of Belize, Wilfred Elrington, expressed his government's concern about the recent death and destruction of innocent Palestinian civilians, mainly unarmed women and children in Gaza.
He reiterated his government's support to the peaceful, safe coexistence of the State of Israel and the State of Palestine in their respective borders recognized by the international community.

He called for including in the UN agenda the elimination of unilateral harmful practices and joined the rest of the international community demanding the end of the "anachronistic U.S. blockade" against Cuba.

Meanwhile, Foreign Minister of Barbados, Maxine McClean, expressed his country's rejection of the U.S. blockade against Cuba as a unilateral action that must be a thing of the past.

He noted that the Cuban government has always shown its willingness to help Caribbean and world developing countries in their development efforts.

"We join the overwhelming majority of UN member states in opposing that unilateral action of the United States against Cuba," he insisted.

McClean also said that the post- 2015 agenda has to be an ambitious long-term project aimed at improving the lives of the people and protecting the planet for the sake of future generations.

He demanded adequate funds and other resources, free access to trade and markets and technology transfer for small island developing states. (Prensa Latina).