Santa Cruz del Sur, Camagüey, Aug 1. – Inhabitants in the municipality of Santa Cruz del Sur -some 82 km south of the city of Camagüey- enthusiastically joined efforts to end repairs and renovation works at the José Santiesteban Báez Municipal Hospital.
Havana, Jul 31.- Cuba on Thursday repeated its condemnation of Israel''s aggression against the Gaza Strip, as a result of which more than 1,000 people have been killed in more than 20 days of Zionists attacks on that Palestinian territory.
---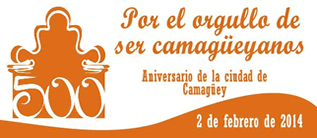 More: Camagüey: 500th Anniversary
---
Havana, Cuba, Ago 1.- Cuba will assist with 13 representatives to the Youth Olympic Games in Nanjing, China, from August 17 to 27 August, announced Norge Marrero, director of the National Institute of Sports.
---
Havana, Cuba, Aug 1.- Bertha, second tropical storm of the current hurricane season in the Atlantic Ocean, is nearing the Lesser Antilles, the Cuban Institute of Meteorology (INSMET) reported today. The system was estimated at 06.00 local hour at 13.1 degrees north latitude and 57.3 degrees west longitude, about 240 kilometers east of Barbados.
---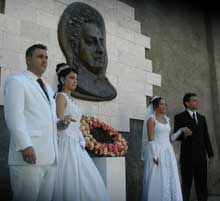 Camagüey, Aug 1. – The Quinta Simoni Museum in the city of Camagüey is holding a new edition of the so-called "Symbolic Wedding between Amalia and Ignacio", which marks each year a new anniversary of the eternal ties between Cuban patriots Ignacio Agramonte and Amalia Simoni.
---
Havana, Cuba, Aug 1.- Cubans are holding a series of actions marking World Breastfeeding Week, running till August 7, the Maternal and Children Department of the island's Health Ministry announced.
Ciego de Avila, Cuba, Jul 31.- Pineapples grown in the Cuban province of Ciego de Avila have gained popularity in the European market, especially in countries like Spain and Italy due to the fruit quality.
---
Havana, Cuba, Ago 1.- The Executive Secretary of the Economic Commission for Latin American and the Caribbean (ECLAC), Alicia Barcena welcomed the recent agreement among the BRICS member countries, which favors creation of new multilateral financial institutions, among other advantages.
Havana, Cuba, Aug 1.- The president of Ecuador's Socialist Party (Partido Socialista-Frente Amplio) Fabian Solano said expressed in Quito his admiration and support of the Cuban Revolution and stressed that "the enemies of Havana are our enemies too."
---
Madrid, Aug 1.- According to a letter published today by the local media, Spanish actor Javier Bardem rejected anti-Semite label for the signing of an open letter against Israeli attacks on the Gaza Strip.
---

Camagüey | Cubitas | Florida | Guaimaro | La voz del Bayatabo | Nuevitas | Santa Cruz | Vertientes
WHO Director General Praises Work of Cuban Doctors
Paris, Aug 1.- As every month, French activist Jacqueline Roussie today sent a letter to U.S. President Barack Obama, where she asks him release the Cubans being held prisoners in that northern country.
---
Your message of solidarity for the #CubanFive is important! Join our voices.
Johannesburg, July 28.- South Africa's ruling African National Congress has launched a Cuban Solidarity Campaign -- pledging to work against long-standing U.S. economic blockade against the Caribbean island nation.
---