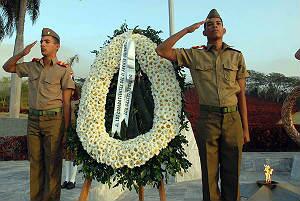 Havana, Cuba, March 12.- Two flora tributes, on behalf of Revolution leader Fidel Castro and by President Raul Castro, were placed in homage to the combatants of the Frank Pais 2nd Eastern Guerrilla Front on the 56 anniversary of its creation.
Havana, Cuba, March 12.- Chilean President Michelle Bachelet received Cuban First Vice-president Miguel Diaz-Canel, who headed the island's delegation to her official swearing-in Ceremony on Tuesday.
---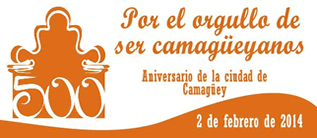 More: Camagüey: 500th Anniversary
---
Moscow, Mar 12.- Russia beat Domadores de Cuba (Cuban Tamers Team) 3-2 and went to the third place of Group B in the World Series of Boxing Wednesday.
---
Havana, Cuba, March 12.- The Cuban achievements in the field of neurological rehabilitation will be presented at the NeuroRehabana 2014 International Congress, which opens Wednesday in Havana.
---
Camaguey, Mar 12. - With the recognition for those who have worked since 1993 to turn this workshop into the most important theoertical event on movie review in Cuba, the 20th National Workshop of Cinema Theory began Wednesday in the city of Camgüey.
---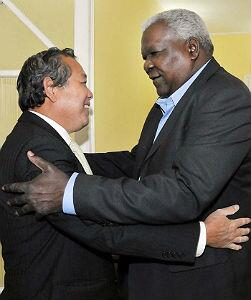 Havana, Cuba, Mar 12.- Esteban Lazo, Member of the Politburo of the Cuban Communist Party (PCC) and President of the National Assembly of the People's power (Parliament), met on Tuesday with Truong Hoa Binh, President of the Supreme People's Court of Vietnam.
Havana, Cuba, March 12.- The number of cell phone lines in Cuba increased six folds over the past five years as a result of
the development of those services, according to official sources.
---
Minsk, Mar 12.- Russia will send about 15 warplanes to Belarus in response to increased NATO activity in the region, Belarus air force commander Oleg Dvigalev said today.
Bucharest, Mar 12.- U.S., Rumanian and Bulgarian warships began joint drills today in the Black Sea, aiming at combining navy forces from the member countries of the North Atlantic Treaty Organization (NATO).
---
Mexico, Mar 11.- Cuban singer-songwriter Silvio Rodriguez, one of the main exponents of the Nueva Trova movement will offer a free concert in the Zocalo of this capital on March 28.
---

Camagüey | Cubitas | Florida | Guaimaro | La voz del Bayatabo | Nuevitas | Santa Cruz | Vertientes
Mi amigo Hugo, the most recent documentary film US filmmaker Oliver Stone.
Beirut, Mar 11.- The president of the Cuban Institute of Friendship with the Peoples (ICAP), Kenia Serrano, today urged the struggle for the release of the island's anti-terrorist fighters unjustly imprisoned in the United States to be taken up as an "urgent cause."
---
Your message of solidarity for the #CubanFive is important! Join our voices.
Guatemala, Mar. 1 .- The Association of Cubans Residents in Guatemala Jose Marti, condemned the commercial blockade imposed by US to Cuba by denouncing that the US Pricesmart network banned the workers of the Caribbean Island from buying in this Central American country.
---