Wednesday, February 13, 2013
Women & Food Production, an Endless Relation
---
---

By Mariela Peña Seguí / Radio Cadena Agramonte.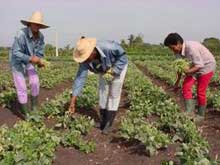 It is due to the old custom that women have been perpetually linked to cooking, that we know for sure the meaning of providing food to our family.


Maybe this is one of the most powerful reasons that has encouraged women in Cuba to join the food production program from their own backyards, workplaces and even from lands leased to the State.   

In this regard, it is crucial the importance of women because they have always developed a close relationship with Nature.

Since the earliest civilizations, they have been responsible for gathering food to feed their families; that's why the discovery of agriculture is attributed to them.

The women's heedful watch over the seeds, which sprouted, grew, and bore new fruit, encouraged those early communities to settle down and found villages.    

For such a reason, this sensibility of the rural women towards nature is so strong that it has lasted until present.

In Camagüey, thousands of women are working in cooperative and State-run farms, besides they have joined the urban and suburban agriculture programs propelled by the Cuban State.

The business group AZCUBA, which replaced the Ministry of Sugar (MINAZ), has also a wide representation of women working the land.

On the other hand, over 1,700 women in Camagüey province are already collecting the benefits from the lands they got in free lease, and bringing food to the tables of their families and of the whole population.

Women are cornerstones in the pursuit of food security and in Cuba we have a commitment with the people, with our families and ourselves. This has driven us to accept the challenge of producing food without scorning any space.   

Commendable has been the effort of thousands of Cuban women to make us easier the old custom that has linked us to cooking.