Friday, November 1, 2013
Cuban Divers prepare for 2014 commitments
---
---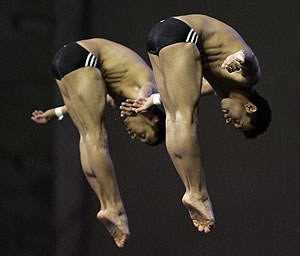 Havana, Nov 1.- Cuban nailed leading figures began their preparation for the commitments they will face in 2014 and ready to fight for medals in all modes, stands today Cubasí digital portal .
In the group that trains at the Ciudad Deportiva in this capital, appear Jose Antonio Guerra, Jeinkler Aguirre , Danay Brizuela and Rene Raul Hernandez .

According to Milagros Gonzalez said, one of the coaches, the team is completed with Deinet Castellanos , Yusmandi Gamboa , Annia Rivera, in platform , as well as Jorge Luis Pupo and Abel Ramirez on trampoline.

This will be a very strong year and with that perspective we are training, because in the competitive landscape is the World Series, the competition qualifier for the Central American and Caribbean Games in Veracruz -2014, which is estimated to be in February but has not yet a defined venue, some stages of the Grand Prix to Guerra y Aguirre and the World Cup, said González .

The coach stressed the lack of resources they have their charges for preparation, but noted that "it is a battle that is won only with the commitment and dedication of the boys."

González also highlighted the rivalry that Cubans face in November, during the Central de Veracruz -2014 .

We will go for medals in all modes, but it will be a very strong battle. Mexico is the second world power of our sport and other nations in the region such as Venezuela and Colombia have raised their level , he said.

The binomial Guerra- Aguirre, was fifth in the Olympic Games in London 2012, the same position they achieved in the FINA World played this year Barcelona, Spain, and are fifth in the ranking of the world led by China.

Cubans also have been in the top rankings of the ladder positions World Series in recent years: third in 2010 and 2011 and second in this season, as highlighted Cubasí. (Prensa Latina)
More from this section ...