Friday, November 22, 2013
2013-2014 Sugarcane Harvest: a Major Challenge for Camagüey Province
---
---
By Pedro Paneque Ruiz/Radio Cadena Agramonte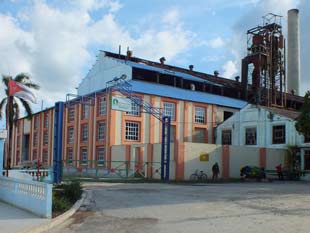 Undoubtedly, the current sugarcane harvest represents a major challenge for sugarcane workers in Camagüey province because it is a matter of honor for them to meet the production plan which is 12 percent above last year's plan and take the "non-complying label" off their shoulders in 2014 when the 20th Congress of the Central Organization of Cuban Trade Unions (CTC) will be held.
And I say so because four sugarcane mills in this Cuban central province fully met their production plans, for they had to assume the work of Brazil sugar processing plant which did a short milling last season, because it had to undergo an overhaul repair which is not over yet.

And there lies one of the commitments of sugarcane workers in Camagüey, to start their cane-cutting and sugar processing season on December 1 with their sights set on overcoming obstacles and fulfil their plan on a daily basis. Besides, these mills –basically Carlos M. de Céspedes and Argentina - will have to assume once again the production commitment of Brazil.

For such a purpose, these four mills have set up a joint strategy that must run like clockwork, and it involves every stage the cutting of the sugarcane on the field, its transportation and the industrial process.

Recently and after having visited all sugar mills involved in the preparation of the upcoming harvest (it already started in other Cuban provinces), José Ramón Machado Ventura, second secretary of the Communist Party of Cuba (PCC) said to be confident that "there are potentials in Camagüey to succeed in the current sugar harvest".

Today, the starting-up of the campaign is close and staff members of these Camagüey-based mills are working hard to amend shortcomings that somehow affected the well performance of these industrial facilities last year.

A good milling campaign will provide important sugarcane derivatives, which are crucial for Cuba, like molasses which are widely used in animal husbandry and mainly to feed the cattle. A rise in its production will increase the milking and consequently will save the country from spending foreign currencies in buying powdered milk abroad.

In addition, Camagüey is engaged in keeping its privileged position as the number one provider of energy to the national power grid, generating power at these mills. This represents a major contribution to Cuba's macro economy and has a very positive impact on the wallets of sugarcane growers and workers.

This is the atmosphere surrounding the starting-up of the sugarcane harvest and grinding season in Camagüey in a bid to extend the campaign for 150 days and advance in the future incorporation of other two mills Ignacio Agramonte, in the municipality of Florida and Panama, in Vertientes, some 26 km south-west of the city of Camagüey.