Monday, June 19, 2017
Remove invasive alien species in Camagüey
---
---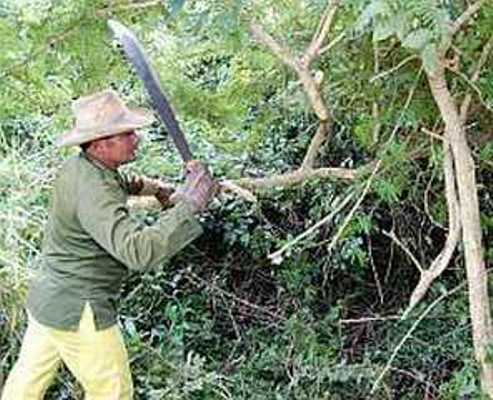 Camagüey, Jun 19.- The elimination of invasive alien species, mainly the Marabú, at about three thousand 112 hectares in the province of Camagüey, allows to allocate former idle lands for food production.
Corresponding to a completed project sponsored by Cuba and the United Nations Development Program (UNDP), the figure is equivalent to a thousand 073 hectares above the initial level, because of the subsequent increase of the surface of land clearing.
The slaughter began in the Basic Unit of Agricultural Production Constitution of Guáimaro (municipality of Guáimaro), and in the Credit and Services Cooperatives, Paco Borrero (Camagüey) and Antero Regalado, and in the Limones-Tuabaquey protected area.
The benefited field in these entities is used in a general sense, to provide products such as milk, pig meat, grains, vegetables, fruits, and pastures.
The further incorporation included segments from places such as the spa in Santa Lucia, the river wildlife refuge of Máximo River, and the cays Romano and Sabinal, told the Cuban News Agency (ACN) the M.Sc. Irma Martin, a specialist of the Provincial Delegation of the Ministry of Science, Technology and Environment (CITMA).
In the first of these places the elimination of intrusive plant formations covered to the casuarina and ipil ipil, harmful to the sand, and in its place was sown the creeping called beach sweet potato, which, in addition, increase the visibility of the marine and terrestrial landscape.
Undertaken by various agencies and led by the Ministry in the Province, the project also, in that area of the municipality of Sierra de Cubitas, the capture of dogs and jíbaro cats, dangerous to the stability of the fauna.
The marabou, the most well known alien invasive species in the field of botany in Cuba, constitutes the most widespread plant naturally in the last 150 years. (Adolfo Silva Silva/ ACN.) (Photo: File)