Thursday, July 6, 2017
Cuban beach volley duo beat Olympic champions in Switzerland
---
---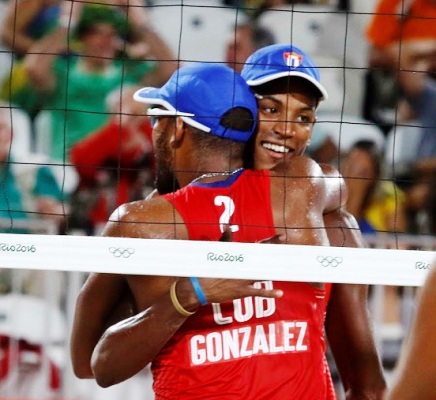 Havana, July 6.- The Cuban duo of Sergio Gonzalez and Nivaldo Diaz beat Brazilians Alison Cerutti and Bruno Schmidt in their second game for Poole H in the Gstaad Major, Switzerland, one of the stops of the 2017 World Beach Volleyball Tour.
Gonzalez and Diaz, 23rd in the world ranking, won 2-0 (21-13 and 21-19) over the Brazilian pair, current global monarchs, in just 34 minutes.
Now, the Cuban duet, fifth in Rio 2016 Olympics, top their group with two wins and no loss as they previously defeated 2-0 (21-17 and 21-19) the local squad of Beeler/Krattiger.
The hosts (1-1), but with better ratio, and Brazilians (1-1) rank 2 nd and 3rd, while Canada´s Platinga-O´Gorman (0-2) are last.
The best three sides of each Poole advance to the round of 24. (ACN)