Tuesday, July 25, 2017
Paulo FG at Tempo Festival in Camagüey ( Photos)
---
---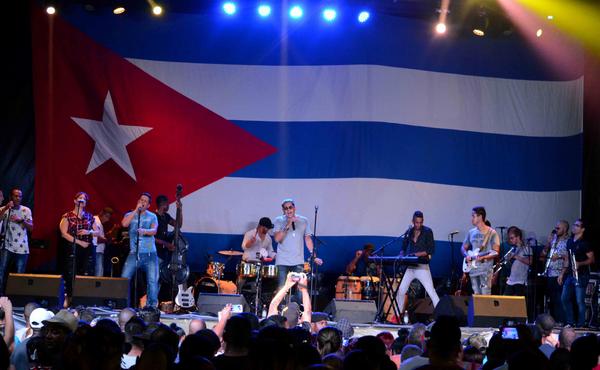 Camagüey, July 25.- To the rhythm of the Camagüey´s young people enjoyed this Monday of the popular singer Paulo FG, along with several finalists of the second season of the project Sonando en Cuba (Singing in Cuba), as part of its national tour for the summer.
"Pa' que suene", was the musical theme that opened the concert in the Plaza of the Revolution Major General Ignacio Agramonte Loynaz, in addition to the successes of his authorship as "Te boté", "La matadora" and others as "Up and Down", his latest album.
Paulo Fernández Gallo, with more than 20 years of artistic work, along with his band The Elite, he shared his satisfaction of returning to the city of Camagüey, where he promoted his album "Sin etiqueta", in 2010.
Also the well-known musician expressed his appreciation for the reception of the program Sonando en Cuba, a space that enabled him to bring joy through the small screen and insert new codes on the television in the country by the rescue of the Cuban musical heritage.
Yordano Brito, Adriel López, Yarán Llorente and Rosa María Moré, contestants on the second season of the television show, accompanied the author of "Te deseo suerte", and for more than two hours infected with enthusiasm to the public, through the improvisations, the dance and the complicity of the good Cuban music.
The national tour of Paulo FG for the summer becomes the initiative of the Union of Communist Youth (UJC, Spanish acrinym), in the context of the Festival of Youth and Students in Camagüey, and is expected by the end of the next August 12 in Havana, due to the World Youth Day. (Indira López Karell/ Radio Cadena Agramonte) (Photos: Rodolfo Blanco Cué/ACN)