Tuesday, August 8, 2017
CIRCUBA will offer functions in Camagüey and Nuevitas
---
---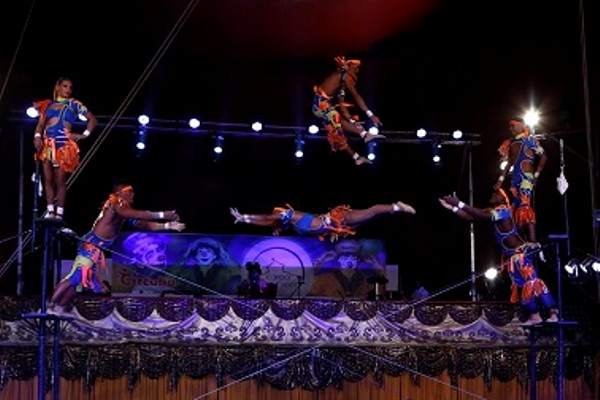 Camagüey, Aug 8.- Artists from five countries will begin today in Nuevitas, the Camagüey´s tour with a selection of the delegations that attended the 16th edition of the Festival International CIRCUBA, considered one of the leading events of its kind in the world.
The first of the 10 functions of the cycle will begin at 4:00 pm, in the multipurpose room of this port town.
The remaining performances will be in the city of Camagüey, from Wednesday until Sunday morning, at 11:00 in the morning, in the theater Avellaneda, and from Thursday to Sunday at 9:00 pm at the Palacio de los Deportes RAFAEL FORTÚN CHACÓN, underlines an information provided by the Provincial Council of the Arts.
Specially dedicated to children, in the presentations at the Avellaneda Program will be reduced because of the characteristics of the setting of the property in connection with the demonstrations at high altitude.
In the genre of gymnastics will be presented Anastasia Khleskina, winner of the Tent of the Image in the edition of CIRCUBA in the current year, with a number called aerial fabrics; Carla Ledesma (Chile), Antonio Magaña (Mexico), and the brothers Dugues (Cuba).
The acrobatics brings together the Duo Patua (Uruguay), Compañía Habana, Lorena, and Geovannis-Carlos -all of the host nation-, while the Mexican Monserrat and Cristian Alejandro will perform in skill with the hula and juggling, respectively.
Complete the cast of the circus Sixto and Lucía, in the rapid change of clothing; the magician Guille, with great illusions, and clowns Cantaleta, Petunio and Pabilo, all of the island.
The offer also includes Héctor Rodríguez, Yenis Santana and Saeed Mohamed, of the National Lyric Theater, and Dianelys Torres, the Lyric Theater of Holguín.
The tour of the show, launched in Sancti Spíritus and pointed out until next September, covers nine provinces; and had its previous headquarters in Holguín and after Camagüey, it will arrive to Ciego de Ávila.
Contestants from 16 countries participated in the most recent appointment of CIRCUBA, adjourned on July 2 in Havana, where the contest usually takes place. (ACN) (Photo: http://www.circonacionaldecuba.cu)