Tuesday, September 5, 2017
Hurricane Irma Continues to Intensify
---
---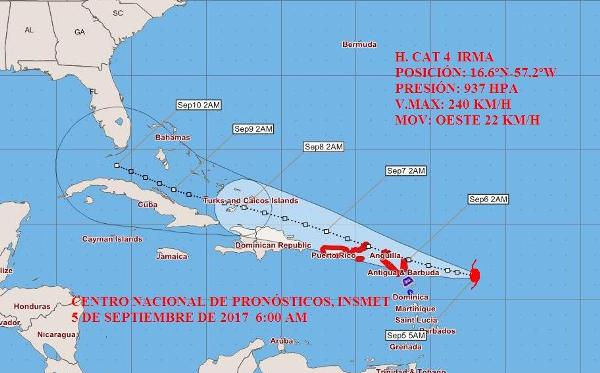 Havana, Sept 5.- Hurricane Irma continues to intensify, reported the Meteorology Institute in its Tropical Hurricane Advisory Number 8 report.
During Monday morning and afternoon Hurricane Irma has continued to intensify over the central Atlantic Ocean, with maximum sustained winds of 215 kilometers per hour with superior gusts, placing the storm as category 4 hurricane in the Saffir-Simpson scale of a maximum of 5.
On Monday 6pm local time, the center of Hurricane Irma was estimated at 16.7 degrees North latitude and 54.6 degrees West Longitude, some 765 kilometers east of Antigua.
Irma is moving west at 20 kilometers per hour.
In the next 12 to 24 hours, Irma is expected to maintain the similar path and gaining in intensity before Tuesday night.
The next Tropical Hurricane Advisory report of Hurricane Irma will be issued Tuesday at 6pm, local time. (ACN)