Wednesday, September 13, 2017
Folkloric Ballet of Camagüey, icon of the Cuban culture ( Photos)
---
---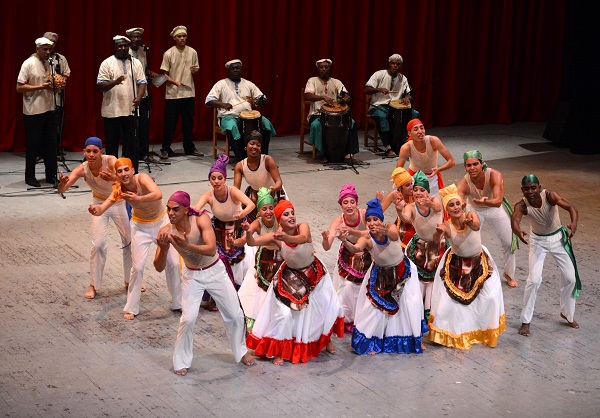 Camagüey, Sep 13.- Contagious beats and the defense of authentic Cuban traditions, identify the activities of the Folkloric Ballet of Camagüey during its 26 years of created.
Defender of the art of the Greater one of the Antilles in the most diverse contexts, and representative of the most autochthonous of our roots, this company musician dancing performed to an in-depth study and compilation of the Afro-Cuban traditions, to transmit them with the joy and professionalism that characterizes them on the stage.
Founded by the master Reinaldo Echemendía, the Folkloric Ballet of Camagüey brings together youth, talent and experience, which dumped into each presentation dedicated to plan and to safeguard the legacy of our ancestors.
Important awards in more than a quarter of a century has made the company one of the major cultural landmarks of the nation, to which represents with pride at the local and international level.
With more than 70 works in its wide repertoire, covering all genres of Cuban music and dance, and in line with the cultural product that identifies them, today the folklore of Camagüey is among the most important artistic ensembles of Cuba, and thus support the wide variety of prizes and distinctions of relevance.
In these 26 years of rampant creation, the company is renewed with a new proposal about to premiere, in which combined the folk dance with their own techniques of the arena theater, making it more drama to the work Oddi-Oche, whose protagonists are the deities of the yoruba pantheon ochún and Yemaya.
Let us hope then to enjoy the fine art of the Folkloric Ballet of Camagüey, that surprises and with his strength, dynamism and professionalism, qualities that make it possible to carry out the scene works of loaded Cuban and universal projection.
Is paused the applause of the audience during the premiere, but already the Camagüey´s inhabitants, we commend the folklore of Camagüey, grouping that radiates ache and gives smiles, art, culture and creation. (Liset Fernández Torres/ Radio Cadena Agramonte) (Photos: Taken from the Facebook page of the BFC)