Thursday, September 28, 2017
Official Note on the Non Attendance of Cuban Cyclist to the World Championship
---
---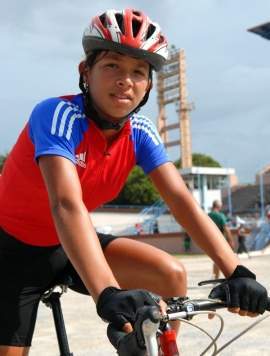 Camaguey, Sep 28.- The Cuban National Cycling Commission (CNC by its Spanish acronym) offered an explanation about the absence of Marlies Mejias to the World Road Championship, held in Bergen, Norway, from September 17 to 24.
According to JIT sports publication, the Cuban Cycling Federation (FCC by its Spanish acronym) and the CNC prepared everything concerning the trip of Mejias and her coach Leonel Alvarez, which included proper accreditation, payment of air tickets, lodging and health insurance, as well as the availability of pocket money for both.
Knowing that the organizers would not guarantee feeding of participants, as is traditionally the case, the Cuban authorities managed this service through a collaboration with the Astana Women´s Team, professional club in which another Cuban, Arlenis Sierra, is hired, which would entirely cover Mejias´ expenses in the event.
Sadly, Sierra was injured during the Pan-American Championship that took place in Trinidad and Tobago from August 29 to September 4, so she couldn´t attend this World Cup, reported JIT.
Despite affectations caused by Hurricane Irma, the Cuban cycling bodies, plus the support of the corresponding banking branch, made possible the acquisition in time of the foreign currency to be wasted by the athlete and her coach according to the figures approved in the country for those purposes.
Then, a few hours after the departure, a communication was received from the event venue setting the athlete's feeding expenses to a level that far exceeded the figure available at that time.
At that point, there was no time to start new efforts in search of the required budget and it was decided that the outstanding cyclist not to attend the contest.
The CNC considers that this situation could be avoided if the WC organizers had assumed feeding expenses, as it is norm in such events, a situation that affects mainly to the national federations of the poorest countries.
The Cuban organizations tried all the time to guarantee Mejias´ presence in the WC, but not to the cost of her to attend an event without the conditions necessary to preserve her health and international prestige.
The FCC, CNC and INDER (Spanish acronym for National Institute of Sports, Physical Education and Recreation) are committed to the career of Mejias, who has been offered all the possibilities to represent Cuba in the most important competitions, including professional circuits.
The note also states that they are proud of her achievements and convinced that she will continue to bring joy to our people. (ACN)