Friday, October 6, 2017
Carmen in homage to its creator, Alberto Alonso
---
---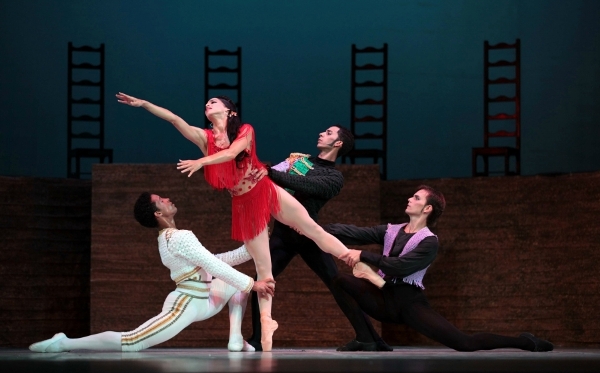 Havana, Oct 6.- The National Ballet of Cuba (BNC) will revive most momentous today the work of the choreographer and co-founder of the company Alberto Alonso, its internationally known version of Carmen, in the 100th anniversary of the birth of that teacher, who died a decade ago.
The Gran Teatro de La Habana Alicia Alonso will host the season until the next October 8, as well as the functions of the 12 to the 15 of this month, when it is scheduled to debut in the role of the famous gypsy of the first dancer of the company, Grettel Morejon.
To open the program of alternating Threshold functions and in the light of your songs, works conceived by the director of the BNC, the first in homage to maestro George Balanchine, one of the figures of the ballet of the 20th century, and the second in tribute to the Cuban singer Esther Borja (1913-2013).
The roles will be assumed by Viengsay Valdés, Anette Delgado, Gretell Sadaise Arencibia, Morejón, Patricio Reve, Rafael Quenedit, Ariel Martinez, Ginet Moncho and Claudia Garcia, among others.
Although the choreographer, founder of the BNC I think Carmen especially for the Russian diva Maya Plisetskaya, there is no doubt of the contribution to the work of another great artist, the Cuban Alonso, to convert to the gypsy in dance legend within the scope.
Shortly after the world premiere in Moscow on August 1, 1967, Alonso danced the workpiece in this capital and exceeded expectations, because for many, the essence of the choreography of Carmen lies in the syncretism of Spanish, Latin and African, present in the Cuban roots.
Interpreters of various countries consider the character a challenge, as the original literary (1845) of Prosper Mérimée, on which inspire dissimilar musical creations, art and ballet, poses a challenge to social constructions of gender and yet to be overcome.
This version of Carmen still impacts by the atypical use of the technique: the character of the tips, walk on the heels and adopts positions closed with the legs, in contradiction with the principle academic hauling out or "ENDEHORS" from the hip to the toes.
As if that were not enough, the gypsy moves naturally in scene, just use the canonical round arms of classical ballet from the 17th century and combines the technique with jerky movements, gestural plasticity that recalls the style of the painter Pablo Picasso.
Carmen personifies the dissatisfaction with the old social order established and dominates a desire for emancipation so strong that shows indifference to the predictions tragic of the letters and dies, for that freedom desired, victim of the intolerance of a time.
This choreography successfully merges the classical technique with the Latin character, in addition to be distinguished by the possession of a vast symbology, not only in attitudes of the characters, but in the scenario designed as a bullring, symbol of life and death.
With this creation, the choreographer Alberto Alonso immortalized in dance the genius of a critical time and seductive. (PL) (Photo: File)