Friday, October 20, 2017
Mozart's Music to Flood Havana for a Week
---
---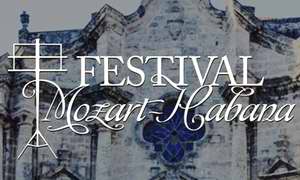 Havana, Oct 20.- Mozart's music will be performed in Havana from October 21st to 28th during the 3rd Festival Mozart Havana in various sites of the capital city, said organizers.
The festival, which traditionally is highly attended, starts with a concert at 20:30 local time at Catedral de La Habana performed by the Symphonic Orchestra of the Higher Institute of Art (ISA) of the Lyceum Mozartiano, directed by maestro Jose Antonio Mendez.
The festival, with more than 20 concerts scheduled, will conclude at the emblematic Teatro Mart with the album Mozartin Havana, in which the ISA orchestra directed by Mendez will perform Mozart's Concerto No. 23 in A major.
'One of the values of the festival is that, although it is focused on Mozart's music, it fosters the encounter of the audience with other great composers like Beethoven, Tchaikovsky, Bach, Krommer, Dove, Haydn, and Dvorak, something that makes the event richer and diverse', president of the festival Ulises Hernandez told the Prensa Latina news agency.
The concerts will be performed in Havana at the Oratorio San Felipe Neri, the churches of Paula and Espiritu Santo, and Plaza de San Francisco de Asis, as well as the concert halls Ignacio Cervantes and Jose White in the city of Matanzas, amid other sites.
The exhibition of plastic arts "Notas Ad Libitum" will be opened today as part of the 3rd Festival Havana Mozart with works by 17 Cuban artists.
The exhibition, to be opened at Los Oficios Art Gallery, includes works by Zaida del Rio, Nelson Dominguez, Flora Fong, Pedro Pablo Oliva, Jose Luis Fariñas, Eduardo Roca "Choco", Ernesto Garcia Peña and Manuel Mendive. (PL)