Friday, October 27, 2017
Digital Cadena Agramonte wins first prize in the National Competition of Radio
---
---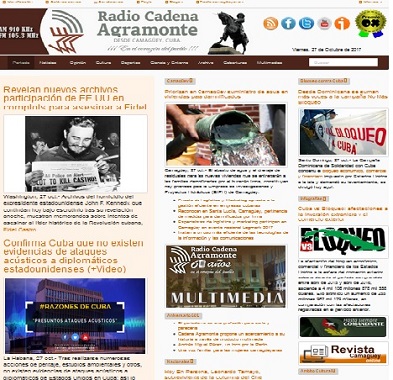 Camagüey, Oct 27.- The site Digital Radio Cadena Agramonte deserved the first prize Sound to see in Digital Journalism, to be delivered during the session today at the Palace of Conventions in Havana, of the National Contest of Radio and Television.
The jury was decided by the web page of the Camagüey´s provincial authority from its constant updating, coverage in real time to important events, the inclusion of part of the traditional radio programming, its attractive design and for their aggregate values, such as multimedia products, infographics, PHOTOREPORTS and a digital magazine.
The award was shared with the site of the radio station Radio Rebelde.
Also of Camagüey was awarded in the category of various programs, "The Messenger", a space of social facilitation of Radio in Florida; both the Miozotis Fabelo Pine journalist, a correspondent of Rebel in the province, deserved a mention in the Cultural Programs, one dedicated to the Cuban black vedette Candita Batista.
The delivery of the sound to see, Radio, and Television, 2017 Cubavision, was foreseen in the context of the Convention of 2017 Cuba Radio and Television, International Expo-Feria; which was suspended before the passage of hurricane Irma by the national territory on the date scheduled for the event, from 10 to 15 September.
The award of the National Contest of Radio and Television in the presence of the President of the Union of Writers and Artists of Cuba (UNEAC), Miguel Barnet, who gave the conference "Identity and insular nature of the mass media".
At the meeting, Julio Armando Vega Quintero, founder of the Cuban Television, received the award for the work of all life, in both gave special recognition to the Multinational Chain Telesur.
For its part, Corderi Onelio Castle, director of the Cuban Radio, was responsible for the closure of the meeting, and announced in June 2018 of the III Radio and Television. (Arailaisy Rosabal Garcia/ Radio Cadena Agramonte) (Photos: ACN and Twitter of Cuban Radio Online)