Friday, October 27, 2017
Camagüey´s artists of the plastic in collective exhibition against the blockade ( Photos)
---
---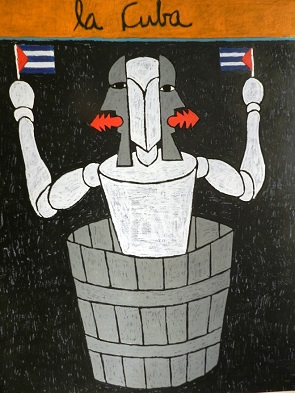 Camagüey, Oct 27. - The Collective exhibition "Cuba once more," sponsored by the Camagüeyan subsidiary of the Union of Writers and Artists of Cuba (UNEAC), and that becomes a recognition to the firmness that characterized the Cuban people; it was inaugurated in the Gallery Julian Morales.
The sample is made up of more than a dozen works of about 15 artists locals of the plastic, and constitutes a complaint to the siege of the economic, commercial and financial embargo that for almost six decades maintains the United States to the Caribbean island.
The curator of the expo, Jorge Santos Caballero, during the opening, meant that Cuba, a small country in existence geographic location, locked in the economic, commercial and political debate for their livelihood with an unshakeable faith in that will come out of the difficulties. That is what they are trying to say these works".
He added also a researcher that the behavior of the Cuban "has defined us in a way of being, in a commitment to life, in a irreducible force; that are visible in Cuba once more.
This exhibition," he added, "does not come to tell us only what we do for our well-being and future, but, as we are capable of thinking in us, in our people, to create a work of confrontation with the badly done, and with a purpose resolved to go ahead in spite of everything". (Text and photo: Lázaro David Najarro Pujols/ Radio Cadena Agramonte)