Wednesday, November 1, 2017
Denounce in Camagüey impact of the blockade to the Cuban Civil Aviation ( Photos)
---
---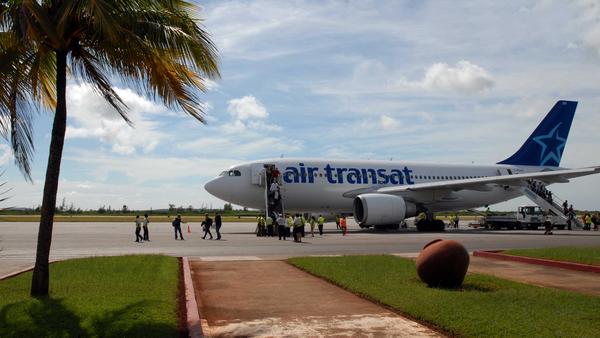 Camagüey, 1st nov.- The Cuban Civil Aviation is among the branches of transport most affected by the economic, commercial and financial embargo imposed by the United States to Cuba, a policy which has been strengthened in recent times and currently generates millions of dollars in losses to the country.
So it emerged in a meeting that was held between workers of the Ignacio Agramonte Airport, in the city of Camagüey, with foreign academics and analysts, to be submitted by twenty-sixth time the resolution "Necessity of ending the economic, commercial and financial blockade of the United States to Cuba".
To send a message of rejection to this policy, which is denounced again today before the General Assembly of the Organization of United Nations (UN), the workers of the Camagüeyan air terminal stressed that damages to the sector exceeds 28 million dollars.
In a statement to the provincial radio station Radio Cadena Agramonte, Teresa Medel Velázquez, an official of the Civil Aeronautics, stressed that this brutal policy prevents Cuba from the acquisition of advanced technology, equipment, parts and other accessories for the aircraft.
It also prohibits the purchase of more efficient and modern aircraft, hence the need to lease at high prices aircraft of the type DC -10,- 320,- 727 330, B- and B- 767, he added.
Customs inspectors ensure that the checked baggage is one of the services is also limited by this arbitrary measure, due to the fact that there is the necessary coverage of parts for the maintenance of the X-ray equipment.
There are also numerous restrictions for the use of airspace and, therefore, the Cuban aircraft have to fly by more distant corridors, with the consequent overexpenditure of fuel and delays in the times of flights.
According to the digital site Cubadebate damage are significant to your time in handling services of passengers, cargo and baggage, in-flight catering, sale of fuel and air navigation services, among others.
Data provided by the Institute of Civil Aeronautics of Cuba confirm that if the American government does not put an end to that policy, the effects can exceed 30 million at the beginning of next year, with a very negative impact in other key sectors for the economy of the island, as in the case of tourism.
In addition, airport workers Ignacio Agramonte, in this eastern province center, reaffirmed the will to maintain the services of international flights despite the refusal of Washington to Cuban airlines operating to U.S. territory.
Commercial flights between the United States and Camagüey, affected by more than 50 years, were re-established in September 2016 with the entry into operations of the companies American Airlines and Jet Blue, the latter with departure from Fort Lauderdale, on the southeast coast of Florida, 30 miles north of Miami.
The measures imposed on the Greater one of the Antilles by the economic, commercial and financial blockade that has maintained the administrations of the United States on Cuba for more than half a century, violate the Chicago Convention on International Civil Aviation, signed by 190 states, including the American nation. (Alex Lopez Almaguer/Radio Cadena Agramonte) (Photos: Rodolfo Blanco Cue/ACN)