Monday, November 6, 2017
Local Artists give to the University of Camagüey a gala of luxury
---
---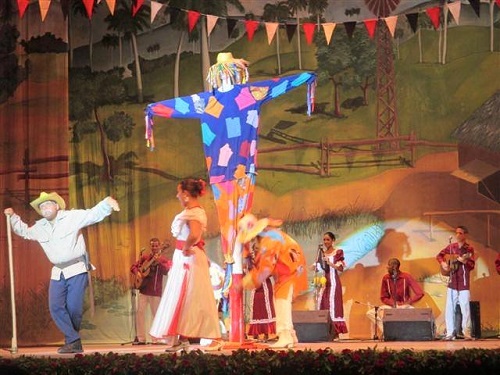 Camagüey, Nov 6.- The Best of the local arts went up this Sunday night at the scene of the main emblematic theater of this city, to celebrate the half-century of the first house of higher studies created by the Revolution: the University of Camagüey "Ignacio Agramonte Loynaz".
The Professional Choir of Camagüey and the Artistic Group Maraguan, of that higher teaching center, led the show directed by renowned choreographer Fernando Medrano Vireya, and which was attended by José Ramón Saborido, current Minister of Higher Education and other former holders such as Fernando Vecino, Juan Vela Valdés and Rodolfo Alarcón, as well as the highest authorities of the Communist Party of Cuba in the territory.
The function was attended with the talent of the outstanding Camagüey´s artist Yaima Sáez, The Camagua folk company, the orchestra "Maravillas de Florida" and the Ballet of Camaguey, has become the first company of classical ballet created by the Revolution, next to celebrate its five decades.
As part of the day, companies and institutions of the province, the country and Latin America Camagüey´s University recognized by all of the results in its half-century of created, among which the Directorate of Culture and Education as well as the universities of the Oriente, Las Villas, Ciego de Avila, Peru, Mexico, among others.
The show was attended by students, teachers and personalities linked to the work of the University of Camagüey in its 50 years of training and scientific work.
The issuance and cancellation of a postal stamp, in addition to the central act in the Avellaneda Theater, will nuance the day of this November 6, the date on which the Camagüey´s University up to its five decades with a solid prestige, relevant contributions and significant achievements in science, economy and culture. (Text and photo: Indira Lopez karell/ Radio Cadena Agramonte)