Monday, November 6, 2017
Camagüey´s Students of Secondary Education analyze issues for their training
---
---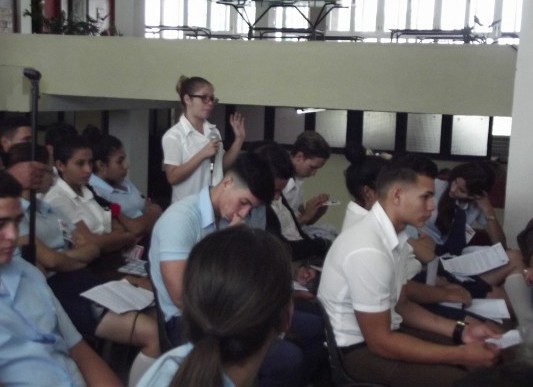 Camagüey, Nov 6.- To evaluate the functioning of the Federation of Secondary School Students (FEEM) in Camagüey and projecting new challenges will be the main objective of the Provincial Assembly of that organization, which will be held on November 7 and 8 in this city.
Melisa Delgado Morales, President of the FEEM in the territory, said that close to 10 100 delegates and guests will participate in the meeting, which will have as its central axis is the role of the study as the students´ fundamental duty.
The student leader stressed that in the appointment will also examine issues related to the vocational guidance and vocational training toward teaching careers, marked by its loss-making situation, as well as the incorporation of the girls to the voluntary military service, among other matters.
Also in the Assembly, whose theme will be: "Be FEEM, be Revolution", the membership will assess the status of the amateur movement and of the scientific-research activity, with emphasis in the Institutes of Exacts Sciences (IPVCE), in addition to the role of young people in the tasks of impact of the demarcation and in the work of recovery after the passage of hurricane Irma.
For its part, the process will be accompanied by a large student movement from the base, which will include the development of productive days, recreational and cultural proposals, dialogs of generations, meetings in the brigades, among other initiatives.
With the premise to keep alive the legacy of the Commander in Chief Fidel Castro and taking between their motivations the 47 anniversary of the organization and the 19th World Festival of Youth and Students, the members of the Camagüey´s Middle Teaching carried out its next provincial assembly. (Indira Lopez Karell/ Radio Cadena Agramonte) (Photo: Miozotis Fabelo Pinares)