Tuesday, November 28, 2017
Shooting of the medical students: hate crime
---
---
Rolando Sarmiento Ricart/ Collaborator de Radio Cadena Agramonte.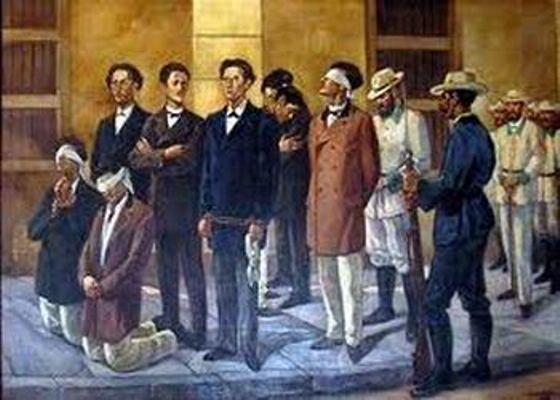 The history written with ink and paper of colonialism Spanish in Cuba coined the facts and the punishment of eight students, shot by the alleged desecration of the tomb of Gonzalo Aguilar, director of the newspaper The Voice Of Cuba, idol of the Volunteer Corps of Havana; but the almost child and adolescent medical students were killed for attempting to shut down the longing for freedom of the youth of the island.
The thirst for example declared guilty and sentenced to death by Alonso Alvarez de la Campa and Gamba, 16 years of age, Anacleto Bermúdez and González de Piñera, Eladio Gonzalez Toledo, Carlos de la Torre Madrigal and José de Marcos Medina (20), Juan Pascual Rodríguez Pérez (21), Ángel Laborde Perera and Carlos Verdugo Martinez (17). The latter was in the province of Matanzas on the day of the alleged offense.
Earlier, on 10 October 1868 in if sugar mill La Demajagua, Carlos Manuel de Céspedes had freed their slaves and declared the start of the armed struggle for the independence of Cuba.
The 22 of January of 1868 occurred the bloody events of the theater Villanueva and Coffee The Louvre, also exponents of the repression to any expression of independence.
Many background of revenge can be listed, such as the detention and shooting of the student Oscar de Céspedes, with only 22 years of age, son of Carlos Manuel de Céspedes, whom the Spanish general Knight Rhodes suggested him to forgive a young person's life in exchange for the illustrious patriot will leave the libertarian cause and the Father of the Homeland not claudico.
Another young Cuban university murdered on 24 September 1870, was Luis Ayestarán Moliner, first student habanero incorporated to the forces of the Army, who was executed in the garrote vile.
Diverse Backgrounds agree that in the sights of the Spanish metropolis were the universities of Santiago de Cuba and Havana, whose students were constantly harassed by their ideas of independence and incorporated to the mambi forces after the uprising of La Demajagua.
Although the captain of the Spanish Army Federico Capdevila, who acted as counsel in defense of students in the first year of medicine, public broke his sword in protest, to learn that in the capital esplanade of the tip, had been shot the young people two by two, blindfolded, hands tied and kneeling.
Luckily for Cuba and the world, on January 1, 1959 victory the struggle initiated by Cespedes, continued by Maceo, Gómez, Martí and Fidel.
The Cuban leader created the faculties of medicine across the country to train health personnel highly qualified; and years later, in 1999, the Latin American School of Medicine, whose classrooms have graduated more than 28 thousand 500 doctors of 103 countries, including the United States, despite the blockade and imperial piracy of professionals from the same triumph of the Revolution. (Picture: File)
More from this section ...