Friday, December 1, 2017
Recalling the Commander
---
---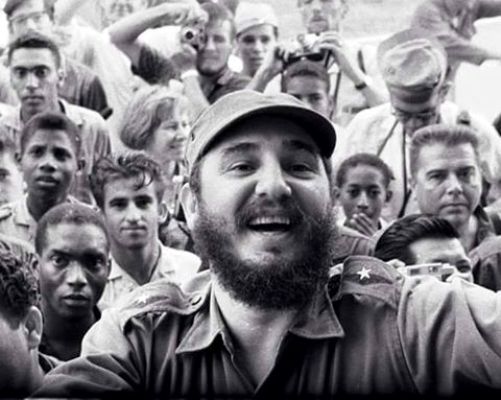 The Commander-in-Chief is no longer among us physically, but his spirit continues to illuminate the way. Their ideas live in our hearts and we will continue with his legacy: to defend the revolution and seek the understanding and solution of the problems of the planet.
To write about his qualities as a human being is very difficult. He defended democracy and human rights, the universal and inclusive education, health for all, the sport as a right of the people, popular culture, science, sustainable development, and dignify the exploited, the poor, the excluded, marginalized. Not only thought about the well-being of Cuba, but was concerned about the future of the world.
Many young people of yesterday and today, they had the opportunity to share with Fidel in his active life, dressed in olive green, directing a march, participating in congresses or giving a speech.
Sadly, I could never know him personally, as always you wish, because since I was a little girl I wanted to see for a kiss and thank you for everything you ever did for me; but, above all, by believing that people like me, with physical and motor limitations, we were able to achieve our dreams.
From small captivated me their ideas, their history, their thoughts, their exploits and prowess. I learned to admire him, to respect him, to love him and today I can say that I miss him.
I will never forget when my parents wrote a letter requesting a team of artificial respiration in order to be able to return to my home, since it took more than 27 months hospitalized; after a short period of time, I was already in my home.
I am now 27 years old, and I am a professional, because from the moment that I left the hospital, teachers came to my house to teach me all the lessons needed to graduate with a Bachelor's degree in Journalism.
What can I say of my Fidel and how much I thank him! To him I owe my life and for his ideas will continue struggling for always. His energy, work, momentum and force, motivate me, inspire me, give me forces, compel me, guide me every day.
The life of Fidel cannot be reduced to a few lines. A year after his physical departure, the Cuban people and friendly countries still suffer and we mourn this great loss. But today, more than ever, the future generations of Cubans have in him, as in Martí, a paradigm and a deep motivation to give continuity to the work of the Cuban Revolution. (By Dayana Cardona González/ Radio Cadena Agramonte)