Tuesday, December 26, 2017
Recovery actions in Camagüey´s organic crop installations
---
---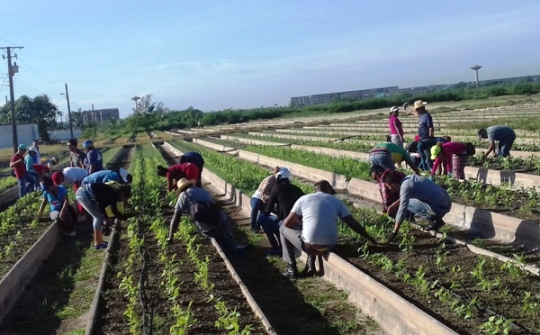 Camagüey, 26 Dec - The recovery, after the passage of hurricane Irma, of more than 70 hectares used for the cultivation of vegetables in the 122 organic crop installations of this province, stands out in the Territorial Agenda of the Urban and Suburban Agriculture.
José Luis Montejo Viamontes, an agronomist in Camagüey´s station of the Institute of soils, pointed out that the training actions aimed at achieving the conservation and enhancement of these lands, through scientific research and the application of organic fertilizers.
According to Montejo Viamontes, in the municipalities of Florida, Mines, Sierra de Cubitas, Nuevitas and Santa Cruz del Sur blunts the optimal exploitation of the earth by agro-ecological practices, and strengthens the diversification of crops and conservation of seed bank.
Among the plots that show an effective system of work are the productive units in the vicinity of the hospitals Amalia Simoni and Manuel Ascunce Domenech, and those located in the Port-au-Prince, Saratoga and Lenin, all in the capital city of Camagüey, described as excellence in several appeals of the National Group of the Urban and Suburban Agriculture.
Also in this city stands out the work of the agricultural workers of the organic crop installation Tínima - Supplier of fresh vegetables, given the possibilities offered by the exploitation of its 100 thousand Masons-, the "Latin America", with a performance of two and a half kilograms per square meter, and the Magnet, located in the West Central Road, among others.
A decisive role to maintain optimal conditions in these facilities corresponds to the Plant Health of the territory, where they apply strategies for monitoring and plant protection in the care and attention to the crops.
The work in the Camagüey´s organic crop installations focuses toward the planting of legumes with rationality, taking advantage of the resources in terms of efficiency and quality, in order to move forward with the production of food for the population and ensure higher offers in the festivities of the end of the year. (Maykel Torres La Rosa/ Radio Cadena Agramonte.) (Photo: File)