Thursday, February 15, 2018
Documentary pays tribute to Fernando Alonso, creator of Cuban School of Ballet
---
---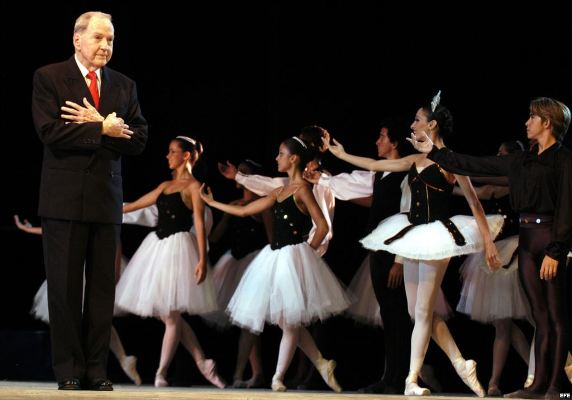 Havana, Feb 15.- Film-makers and intellectuals released today in this capital a new documentary on the father of the Cuban School of Ballet, Fernando Alonso, the special educator who died in 2013.
With the title: Fernando, infinite dance, Esther Garcia, director of the drama of 42 minutes duration at the Villena of the Union of Writers and Artists of Cuba (UNEAC).
The work has a general script of Otto Brana and the advice of one of the jewels of Cuban ballet, Aurora Bosch, who after the death of his master proposed in a congress of the UNEAC assign the name of Fernando Alonso at the National School of Ballet of Cuba.
In statements to Prensa Latina at that time, the artist based on the need to rescue a special educator for having been the trainer of a large part of the dancers of his generation and have instilled from the youth also the magisterium.
According to Bosch, the teacher not only taught steps but offered a comprehensive education for the scenarios and for life.
The former first dancer with the National Ballet of Cuba (BNC) described to Alonso as a careful worker, not underestimated individualities, polished, sculpted dancers, encouraging curiosity, research, and educated with a vast culture.
Alonso founded in 1948 the BNC and the Cuban School of Ballet, along with his brother Alberto Alonso (choreographer) and his then-wife, Alicia Alonso, great dancer who -according to Bosch- was the paradigm of all dancers of his time.
The proposal for the appointment of the National School met with the approval of the Ministry of Culture in recognition of one of the great masters of the Alicia Alonso and of the first generations of the Cuban School of Ballet, whose methodology he created.
The pedagogue, distinguished with the Alea Dance Award, considered the Oscar of that demonstration, died in July 2013 and until his last days participated in trials, conferences and lectures at the National School of Ballet, the center Prodanza of Cuba and the Ballet of Camaguey.
It is worth noting that the teacher directed the BNC since the foundation in 1948 until 1975, when he took over the direction of the collective of Camagüey, during 17 years of work (1975-1992), helped to forge another company of excellence, with national and international projection.
In the documentary Garcia may be seen interviews with another jewel of Cuban ballet, Loipa Araujo; dancers and now teachers as MeniaMartínez and Paul More, the writer, essayist and critic of Ballet Eduardo Heras León, among others. (PL) (Photo: File)