Monday, February 19, 2018
Camagüey´s Banking workers outlined actions to raise quality of service in
---
---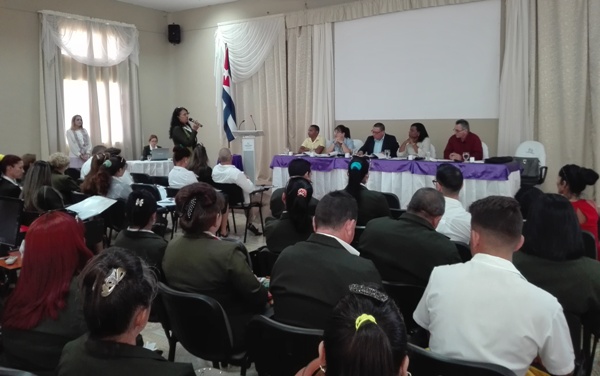 Camagüey, Feb 19.- Among the objectives of the Popular Saving Bank (BPA) in this province for the current year include improving the quality of service to clients, to continue the implementation of the credit policy and promote the culture of saving in the population, according to the assembly of annual balance sheet of the Agency.
Patricia Buigas, national director of Personal Banking of BPA, outlined the main challenges and assure you that this province has one of the most positive credit portfolios, which is favorable because it has benefited more people, and that must be retained.
"We have to get closer to the population, to educate them financially."
For its part, the Walnut Greicher Gambino, director general of Business of BPA in Cuba said that for the current year is essential to attracting new customers, especially non-state workers that require appropriations for the financing of its work.
"We also focus toward the agricultural sector, including the pig farmers and other small farmers that exist in the locality, to provide financing".
Carlos Manuel Sousa Viamontes, provincial director of the BPA, the exchange with representatives of the entity in the 13 municipalities agramontinos reiterated the importance of the banking dialog directly with farmers, staff of the non-state sector and legal persons about the benefits of the credits.
The Banco Popular de Ahorro (Popular Saving Bank) in Camagüey closed 2017 with an increase of domestic currency liabilities, the expansion of the use of magnetic cards and the beginning of the service of Mobile Banking and the Remote Banking.
How to balances in favor of the past period, the balance in the accounting result of the province, since it reached utilities with their own income; the expansion of the areas of business, the location of the Corporate Banking in the third place national and leadership that reaches the mobile banking service in terms of the number of users.
As priorities for this year include the reduction of the waiting time for customers in the branches, the preparation of specialists for the care of the population and the promotion of the services that are offered, starting from a bigger bank management. (Text and photo: John G. Mendoza Medina/ Radio Cadena Agramonte.)