Monday, February 26, 2018
2017 Excellence Award recognizes contributions of Cuba to the welfare
---
---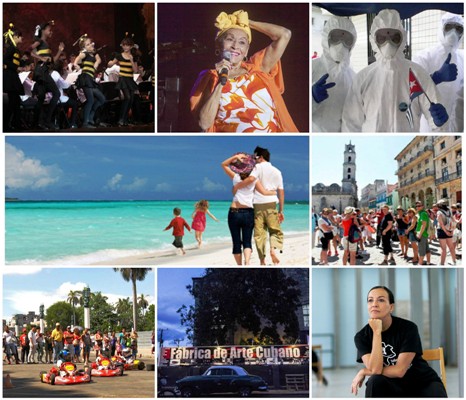 Havana, Feb 26.- Jose Carlos de Santiago, president of the Excelencias Group, said in this capital that Cuba stands out due to the constant work and the work of government, institutions, and individuals in terms of the well-being of society.
In a press conference the manager said that Cuba is a country leader and brilliant in the Caribbean region, Latin America and the world, and highlighted the achievements of the Caribbean island especially in the areas of education and public health.
Santiago emphasized the importance of the awards Excellencies that grants the entity that heads and that were announced during a gala evening at the Covarrubias, The National Theater of Cuba.
In the exchange with the journalists praised the security, responsiveness, and prophylaxis of Cuba in the face of natural disasters such as cyclones and recover from them, and gave as an example the hurricane Irma, the CubaSi site.
Cuba is open, to know its streets, interact with their people, press their neighborhoods. That in a safe way. Suffice it to sit on the Malecón late at night and see how shared by families and friends. In very few countries of Latin America and the Caribbean you can enjoy that personal freedom, he said.
The Excelencias Group presented its annual Awards for Excellence, which recognize a life or years of service, and are intended to enable society to recognize people from all sectors who have given both in terms of the well-being of its country.
The 2017 Excellence Awards were for the Henry Reeve Medical Brigade, for more than a decade of internationalist medical assistance for natural disasters and serious epidemics, doctors Rodrigo Alvarez Cambras, Jorge González, Roberto Alvarez Fumero and Guillermo Lazarus Prado Gonzalez, and the boxing trainer Alcides Sagarra.
In the category of Tourist Excellencies it deserved Hotels and Camagüey Hotel Group Cubanacán S.A. and Gourmet Street and in the Hotel Nomar went to Habanos S.A., Juan Bautista Gonzalez Escalona and Cuban roneros teachers for their work on the preservation of culture and tradition in the manufacture of the cuban light rum.
Engine Excellence award was for Milton Díaz Canter for its special support and promotion to motor sports in Cuba, and the Special Award Caribbean News Digital proved to creditor the Ministry of Tourism of Cuba, to break once more the record of international visitors in spite of the damage caused by the passage of hurricane Irma.
In the category of Art "EXCELLENCIES" were for the poetess Carilda Oliver Labra, singers singer Omara Portuondo, Haila María Mompié and Edesio Alejandro, as well as Alexis Vazquez for his work in the promotion of jazz in Cuba and the Cuban culture at the international level.
Also for the factory of Cuban art, a new type of project in Cuba, and promotes the work of young people and is a place of recreation through all the arts, the theater company La Colmenita children's playground and the dancer Lizt Alfonso. (ACN) (Collage: RCA)