Tuesday, February 27, 2018
Pay tribute to Carlos Manuel de Céspedes, the Father of the Homeland
---
---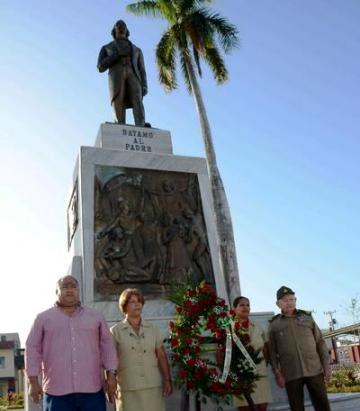 Bayamo, Feb 27.- The village of Granma paid tribute today in the morning, Carlos Manuel de Céspedes, who is considered the father of the Homeland, in the monument erected in his honor at the Square of the Revolution of this city, 144 years after his death.
Guillermo García Frías, Commander of the Revolution and the Hero of the Republic of Cuba, tank, next to Federico Hernández, a member of the Central Committee and first secretary of the Communist Party of Cuba in the province, a wreath at the statue of Patricio Bayamo that gave rise to struggles for independence the 10 of October of 1868.
Aldo Daniel Naranjo, president of the Union of Historians of Cuba in the eastern territory, noted that one of the most outstanding features of the revolutionary projection of the first President of the Republic of Cuba in Arms, was the ongoing work in favor of the unity of all the foci of independence in the idea and the action.
Referring to Carlos Manuel de Céspedes and his generation, assured that those worthy of freedom-loving managed to unite in a popular movement to the classes, sectors and forces interested in the creation of a new system of social relations in Cuba.
Céspedes was the man of the culture and social progress," the historian said remembering the human qualities and the patriotic, that made the illustrious lawyer Bayamo in the Father of all Cubans.
The historian noted that the independence that was raised in the Ingenio La Demajagua in 1868, was the architect of the construction of the Cuban military art, organized by the Army, the direction of the war and established the methods to achieve victory and a democratic regime, the most advanced of the time.
In the act of homage, carried out close to the birthplace of Carlos Manuel de Céspedes, in the city of Bayamo, students from several levels of education, leaders of mass organizations and members of the Association of Combatants in the territory.
The Father of the nation fell into unequal battle against the Spanish troops on February 27, 1874 in the town of San Lorenzo, in the Sierra Maestra, where he had settled after his dismissal as President of the Republic of Cuba in Arms. (Text and photo: ACN)