Monday, June 11, 2018
President Maduro emphasizes work of the Movement We Are Venezuela after one year of created
---
---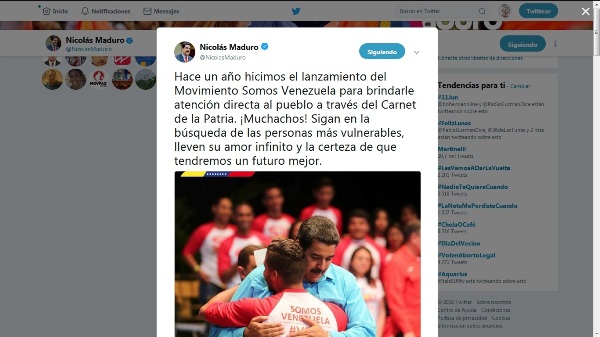 Caracas, June 11 - The Venezuelan president, Nicolás Maduro, commemorated today the creation of the Movement We are Venezuela, shaped in 2017 to support the government to identify the vulnerable families and to help to settle its needs.
Across a message published in Twitter, the chief emphasized the work of this organization in the attention of the people by means of the so called Card of the Homeland, mechanism used to coordinate the missions and public assistance programs, as well as the delivery of protective bonds to the population.
"One year ago we did the throwing of the Movement We are Venezuela to offer to him direct attention to the people across the Card of the Homeland. Boys! Continue in the search of the most vulnerable persons, take his infinite love and the certainty of which we will have a better future", wrote the head of state in the above-mentioned communication platform.
Created in June, 2017 as a tool of linkage between the government and the masses, We Are Venezuela million persons allowed to include in politics directed to reinforce rights in priority areas like health, education, feeding and housing, between others.
On January 27, 2018, the president of the Republic announced to the country that this organization would take part like party in the elections to the first magistracy, celebrated on May 20 last and marked by the reelection of the chief, with more than six million 200 thousand votes.
The general secretary, Delcy Rodríguez, informed in recent declarations the press that the Movement We Are Venezuela will carry out its national congress next July 22.
Rodríguez added that in the great appointment of the partisan entity, two thousand delegates will take part and will be debated on the enlargement of the sectorial networks.
The political leader emphasized that this organization contributed 6 % of six million 200 thousand votes achieved by the candidate of the Wide Front of the Homeland in the recent presidential elections.
He underlined that We Are Venezuela it represents the union of all the sectors of the country, which will accompany the strategic lines of the government of Venezuela for the consolidation of the system of social protection, the big economic agreement to advance in the impulse of the production, and the defense of the national sovereignty. (PL) (Photo: Apprehension of screen of the profile in Twitter of Nicolás Maduro)