Tuesday, July 10, 2018
United members of the International Brigade with Cuba heighten importance of visiting the country
---
---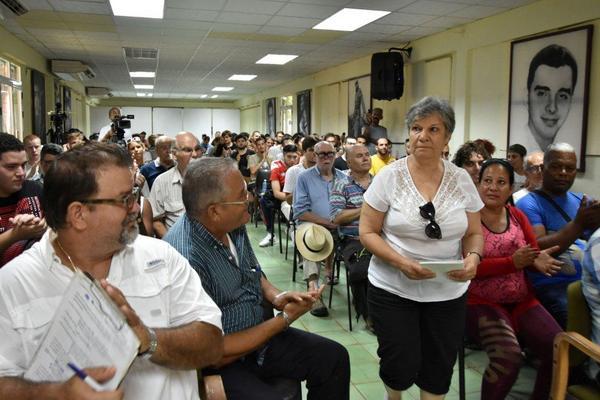 Havana, July 10 .- Members of the 48th edition of the European Brigade José Martí of Solidarity with Cuba expressed today their support to this nation, where they will take part in productive works, conferences and meetings with the people.
According to Maria Concepción Pereira, member of the International Brigade of Portugal that has integrated 14 times these groups of solidarity, to come to the Island is very profitable both in the personal plane and in the group.
Pereira, militant of the Portuguese Communist Party, told to Latin Press that in her country one does not know very much on Cuba due to the mastery of the right over the mass media.
They speak things that are not real, turn round others and present them of prevaricated form, said the visitor, who insisted that the solidarity brigades help to spread in the world the Cuban reality.
We here integrate and see the force of the people, the goals and targets for which it fights. We see the unit, without which the Cuban Revolution had not resisted so many years, and that makes us feel pride, she mentioned.
For her part, Maria Luisa Ramos, Bolivian integrated to the European brigade, pointed out that the possibility of sharing in Cuba with persons of several countries is very important to spread the truth on the Caribbean nation, that of Latin America and to coordinate initiatives on a global scale.
It is excellent because not only it is a question of the solidarity with Cuba, but with us to re-stimulate our ideas and, the same way, to have necessary self-criticism doses, she added.
"It is necessary to keep on supporting Cuba, which has been the light in the way of numerous persons. It is a people that has contributed us very much and to which very much we owe him", it pointed.
"We have to keep on denouncing the blockade - terrible and horrible - to that the United States has submitted the island for having different ideas and fighting for the freedom", he added.
The present edition of the brigade is provided with more than 90 members proceeding from Germany, Czech Republic, Spain, France, Russia, Switzerland, Greece, Italy, Portugal, the United Kingdom, Sweden and Belgium.
Also, citizens of other countries - included several Latin Americans - integrated to the delegations earlier said.
The agenda of the European group includes sports competitions, meetings with personalities of the Cuban sport, you visit to cooperatives, ecological and cultural community projects and to places of historical interest in several provinces.
The closing ceremony of the program will be July 26, date celebrated in Cuba like Day of the National Rebelliousness and in whose activities the members of the International Brigade will inform. (PL) (Photo: ACN)