Wednesday, July 11, 2018
Summer for the Camagüey´s family also from Young Clubs of Computing
---
---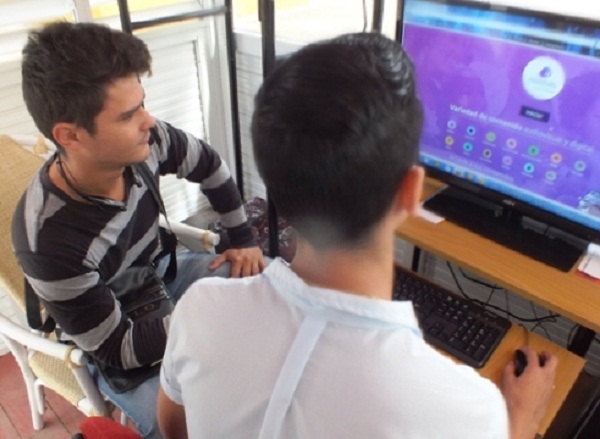 Camagüey, July 11. - Young Clubs of Computing and Electronics (JCCE) in this province has foreseen an interesting and attractive program for the present summer period, like sample of which these facilities are a good option to achieve the healthy and profitable recreation of the whole family.
Children, adolescents, adults and persons of the third age will be able to enjoy of more than 40 facilities of this type that work in the territory, with accessible schedules and options for all the tastes and needs.
In addition to the transmission of the World Cup of Soccer, which will conclude next Sunday in the Russian capital, between the offers that this year drink they are the projection service of audio-visual in the Technological Forest, the contest of digital painting Your summer in Young Club, and the presentation of a special edition of the project The Rucksack.
The same way, there is supported the project EnMiCasa+Click, with the deployment of the house to house of street instructors to offer services of computer assistance and copy of The Rucksack.
Also, they will give short summer courses, which will be according to the demand of the community and will be able to allude to social networks, blogosphere and web design, configuration of terminals Android, advices related to the mobile phone, and courses of video games, between other subject-matters.
During the summer there will be specific days for the promotion of the Cuban encyclopedia EcuRed, from 16 to 20 of the current July; from the portal of video games Ludox, from 23 to 27, and of the product Tobacconist's shop, from August 6 until next August 10.
Also, from August 1st to the 5th there will take place the National Tournament of Dota 2, and will do to him the throwing of the video game Almiquí, in the portal of video games Ludox, on Friday, the 10th of August.
For the anniversary 92 of the birthday of the Commander in Chief Fidel Castro Ruz, on Saturday, the 11th of August will present a special Rucksack, and on proper 13th (date of the event) all the actions will be dedicated to the historical leader of the Cuban Revolution.
Between other activities, also they foresee the following ones:
- Promotion of the product Reflexes, from August 13 until August 17.
- Closing of the Contest Your summer in Young Club. On Friday, the 17th of August.
- Wifi and Sailor Hearth consultancy with ETECSA.
- Educational campaign mobile Council of ETECSA.
- Sale of cards of reload in national currency, in the Technological Forest.
- Remote Banking and Virtual Banking service. Across the access to the Web place Young Club Camagüey www.cmg.jovenclub.cu
- Municipal tournaments of Dota 2, from August 30 to September 1st, where the teams will be selected for the provincial fight.
The JCCE constitute a community educational program that provides computer culture, with priority for children and young people, and redeem an active, creative role and of formation in the process of computerization of the Cuban society. (Mariela Peña Seguí / Radio Cadena Agramonte). (Photo: File)