Friday, July 13, 2018
Díaz-Canel receives the Prime minister of Saint Vincent and the Grenadines (+ Photos)
---
---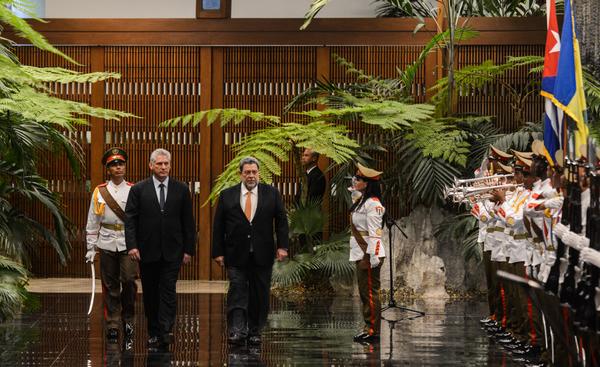 Havana, July 13 .- Miguel Díaz-Canel Bermúdez, president of the Councils of the State and of the Ministers of Cuba, received today in this capital the prime minister of Saint Vincent and the Grenadines, Ralph Gonsalves, who realizes an official visit to the island.
After the Gonsalves homage to the National Hero José Martí, in the Square of the Revolution, both chiefs supported official conversations.
At the ceremony in the Palace of the Revolution there were present also Rodrigo Malmierca, Secretary of Commerce Exterior and the Foreign investment, and Bruno Rodríguez Parrilla, the Secretary of State of Cuba.
From the year 1992, Cuba and Saint Vincent and the Grenadines support diplomatic relations, based on the mutual respect, the recognition to the national sovereignty and the cooperation.
Gonsalves has already realized several visits to the Island, shows of the good state of the bilateral relations between Cuba and the nation that it represents, both members of the Alliance Bolivariana for the Peoples of Our America (DAWN).
During his stay in the Island, the Prime minister has emphasized the need for the Latin-American and Caribbean unit to achieve the goals together.
It aimed, also, at the importance of the beginning of complementarity and solidarity and considered the importance of 24th edition of the Forum of Sao Paulo, which will take place from 15 to 17 of the current July.
Ralph Gonsalves turned into political leader of the Labor Party of the Unit on December 6, 1994, and he has investigated and written on trade unionism, the comparative political economy and the general problems of the development. (Text and photo: ACN)