Friday, July 13, 2018
Cuban Triplets Díaz classifies by the end of the juvenile World cup of Athletics
---
---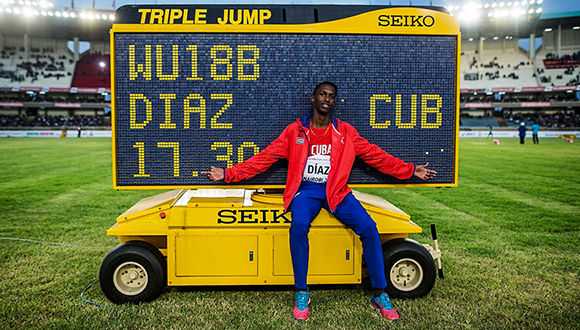 Havana, July 13 - The Cuban Jordan Díaz classified today without difficulties to the final of the triple jump in the fourth competitive date of the juvenile World cup of Athletics, with head office in Tampere, Finland, until the next Sunday.
Díaz, who impressed last year with his world record for 17.30 meters cadets in the universal contest of this category, with stage in Nairobi, Kenya, needed only an attempt to guarantee his ticket on having stretched up to 17.09 m.
With this result, the triplets of Cuba exceeded extensively the 15.80 m minimal mark demanded in this test, and ratified his pretensions to conquer the golden medal in the final of this Saturday.
The athlete native to Havana achieved in the present period the best record of his life (17.41), to break the Cuban record sub-20 that it was in possession of Pedro Pérez Dueñas from 1971.
Díaz came to this appointment of the world in Tampere like one of the principal letters from victory of the Island in this event, in which until now the Cuban nation has reached a silver gem and one of bronze.
Maikel Vidal, with his second place in the long jump, and Silinda Morales, proprietor of the third position in the throwing of the disc, have been for the time being the Cuban medalists in this competition.
Also this Friday the jumper of height Isis Guerra was included between the finalists of this form on having achieved 1.84 meters in his second attempt; while Adriana Rodríguez remained fourth in the heptathlon with five thousand 910 points.
In this exhausting test there gained the gold the Briton Niamh Emerson (6523), continued by the Austrian Sarah Lagger (6225) and the Pole Adrianna Sulek (5939), as there reflects the official place of the International Federation of Athletics. (ACN) (Photo: File)