Wednesday, August 15, 2018
Vice President of the Council of Ministers through Camagüey´s food-producing entities (+ photos)
---
---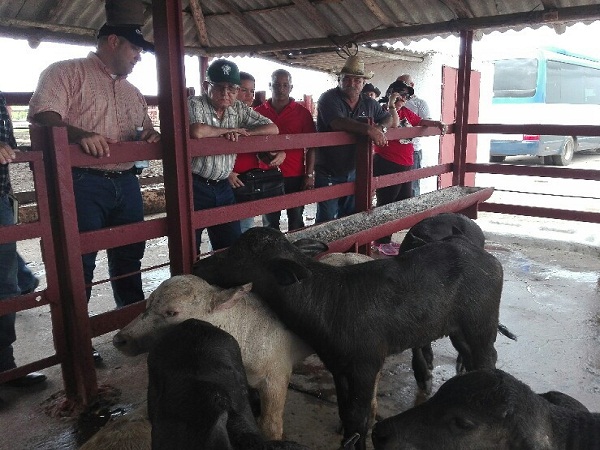 Camagüey, Aug 15. - The Vice-President of the Council of Ministers Ulises Rosales del Toro convened in this province to deal with the drought and ensure food and water to the mass vaccine, with alternatives as silage and the use of reservoirs, idea always defended by the Commander in Chief Fidel Castro Ruz.
On its Tuesday by the Camagüey cattle company, with more than 13 thousand hectares and a figure close to three thousand 600 Buffalo, met for the availability of the vital liquid have pumps that work with conventional and photovoltaic, mills wind and wells.
Dedicated to the production and marketing, that entity reported at the end of July more than 139 tons of meat and 214 thousand liters of milk, to exceed their plans of the stage; at the time that diversifies with the contribution of animal feed, coal, and a meat processing center.
In the unit of buffalo milk the little girl and the unit-school track, Rosales del Toro exchanged with several workers and became interested in the planting of protein plants, the confinement of animals, birth and other actions that result in best economic outcomes.
Also visited the Fishing company of Camaguey, which keeps the best catch levels in the country, along with the of Sancti Spíritus, with a perspective of increasing more than four thousand 300 tons of fish that has averaged in the last five years.
On the ground, Red Star, he spoke with workers who were in the processing of claria and tench, among them María Elena Valdés, with 22 years of work in installation, permanence that highlighted the Vice President of the Council of Ministers.
In the laboratory, praised the work of his group, because it guarantees the quality and safety of production, while in the area of forming knew that there they produced 37 thousand 500 croquettes in an eight hour shift.
He said that the repair and maintenance of aquaculture units today is priority of industry food in Cuba, because it contributes to a greater variety of assorted population.
Rosales del Toro was also interested in the operation of the Provincial Directorate for Justice, where stressed that human capital is the main richness of an organism, it must achieve its stability.
As one of the priority tasks, Urbano Pedraza Linares, first Deputy Minister of Justice, to the computerization of the civil status registers, as this means quality and safety of the documentation. In this territory of Camagüey , the 17 offices assuming that service are computerized.
To receive information about the process investor in centers such as the register of civil status and the property in the province capital, and the increase of benefits in keeping with the socio-economic update that the country, del Toro said to Camaguey It has conditions to move forward and meet the high demand of the population in that sector agencies.
This Wednesday continues the tour of Ulises Rosales del Toro production centers in areas relevant to the economic development of this province. (Juan Mendoza Media/Radio Cadena Agramonte) (Photos of the author)