Thursday, August 16, 2018
Ulises Rosales called to teachings of Fidel for livestock development in Camagüey (+ photos)
---
---
By Juan Mendoza Medina / Radio Cadena Agramonte.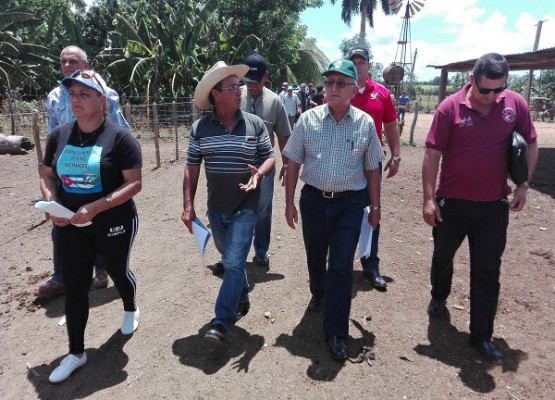 Camagüey, Aug 16 .- On the final day of a working visit to Camagüey, the Vice-President of the Council of Ministers Ulises Rosales del Toro exchanged with workers and managers of cooperatives of agricultural production (CPA), which highlighted the need of implement strategies so climatic adversities do not affect the development of animal husbandry.
"It was that Fidel taught us when he started working in livestock development. He did research in places of land poor, to show that in the worst conditions could produce milk and meat, and are protected and guaranteed food ensiling it".
In the municipality of Santa Cruz del Sur, Rosales del Toro arrived on Wednesday to the CPA Ramón Sánchez Artiles, which has thousand 103 hectares, of which for the most part dedicated to the cultivation of sugar cane and livestock, and to a lesser extent the various crops.
A dialogue with the President of the productive unit, Carlos Masid, Vice President of the Council of Ministers knew of the efforts there to ensure animal feed.
He also called on the group to continue working to help improve the diet of the people.
With 38 milking cows, we get 180 liters of milk daily, explained Masid - member of Parliament Cuban- and Rosales del Toro recommended to increase the mass of small livestock.
65 kilometers from the city of Camagüey, the farm El Corojo from the aforementioned CPA, promotes protein crop for feed the flock and increase milk yields.
The optimal use of resources to improve outcomes in animal husbandry, the planting of protein plants, and silage as a way to store food for the animals and supply it in times of drought, are premises for the development of the sector, the Vice-President of the Council of Ministers Ulises Rosales del Toro insisted.
During his visit to the province, it also exchanged with groups of restaurants of the capital province, such as Rancho Luna, La Volanta and 1514, where he became interested in the offers and prices, and called for rescue dishes and quality of service.
In addition, he knew of the productive process in fisheries and livestock of Camagüey enterprises, and spoke with representatives of the Provincial Directorate of Justice. (Photos of the author and Yamylé Fernández.)