Monday, August 20, 2018
Starring Camagüey's women volunteer work in food production
---
---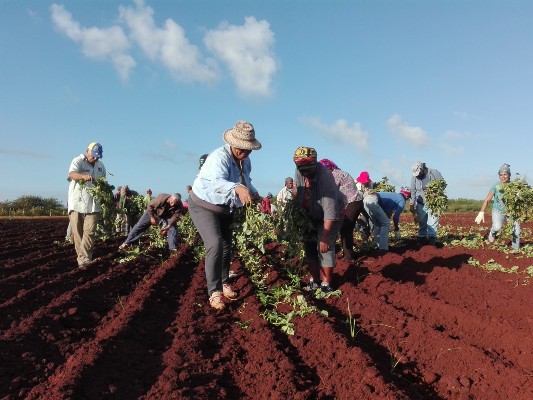 Sierra de Cubitas, Camagüey, Aug 20. - A day of volunteer work held in this northern town, as part of the activities greeting the 58th anniversary of the Federation of Cuban women, with the participation of Anielka Fernández, Secretary general of the Organization in the province of Camagüey.
Thus, territory, seat of the provincial Act by August 23, joined this Sunday national call of developing productive tasks in the context of the anniversary.
The site chosen was the basic unit of production of food Carlos Marx, where the women supported the planting of sweet potato, initiative was also backed by entities of the territory, including the sector of health, trade, Stockpiling, workers of the production unit friendship Cuba-Argentina and representatives of political organizations and masses.
The Federated of Sierra de Cubitas, inspired in the legacy of Vilma Espín and Fidel, and in the context of the project of constitutional reform referendum, undertake different tasks in the social order and are leaders in the work of sanitation and hygienic cleaning in the municipality, as part of the permanent fight against the Aedes aegyti.
In red soils of Camagüey, women are dominant in leadership positions and in the different structures of the people's Council.
In addition, the FMC in the municipality exhibited satisfactory results in the recently-concluded process X Congress of the Organization, which placed it in a Summit Ridge place in national emulation and earned him the provincial Act by the 58 anniversary headquarters, which will be held in the town of single the next day 22. (Text and photo: María del Carmen Castañeda Varona / Radio Cubitas)