Tuesday, September 11, 2018
The city is its people's reflection
---
---
By Yusarys Benito Deliano/ Radio Cadena Agramonte.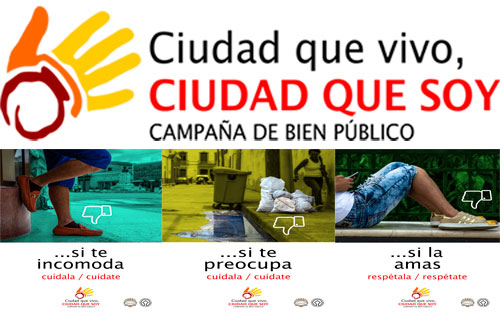 One of the features that better defines a person from Camagüey is the pride for their land. Each of the streets, alleys, squares and churches is the reflection of those who live it and feel for it, but also of those that carried by the apathy do not take care of the city seriously.
Despite the enormous efforts of the Historian's Office (OHCC) by preserving the World Heritage status, there is an increase in the social indisciplines against the cleaning and the general well-being of the citizens.
The most recent initiative to eliminate those behaviors and bad habits is the commonwealth campaign "The City that I live in, the city I am", which promotes the need to join institutional and social forces to increase civility and respect for the public adornment.
Led by the OHCC, it has three fundamental stages with a one year duration, which provides a physical change in the urban environment with the collaboration of different authorities and institutions, the media and the leaders' opinions.
Essentially, it is then about joining efforts in order to materialize actions of maintenance, sanitation, training, communication and education in a city approaching 505 years old and whose architectural and cultural values as well as its preservation, turned it into one of the World Heritage cities.
But, "The City that I live in, the city I am" can not only be graphics and promotional stands, building maintenance or socio-cultural actions. For this reason, the campaign aims to raise the population's consciousness and the fact that each person makes the city its home and a mirror of their daily actions.
To appeal to that pride for the cultural heritage means to implement terms such as enjoyment, coexistence and camagüeyaneidad (idiosyncrasy for the province). It is simply to bet on a quality of life in correspondence with the good health of a town with more than five centuries of history.
The difficult economic conditions, the unwillingness or inability to cooperate cannot be the pretext of bad habits or irresponsible civic behavior. The city does not have to pay the consequences of its people's indolence.
To live in Camagüey from what we are and what we defend is the way. The sense of belonging to each paving stone, legend or architectural beauty will make it a safe destination to the city's tourism, but also in a better home for all. (Collage RCA con imágenes cortesía de la OHCC)