Saturday, September 22, 2018
Active participation of Camagüey people in the consult to the Constitution Draft
---
---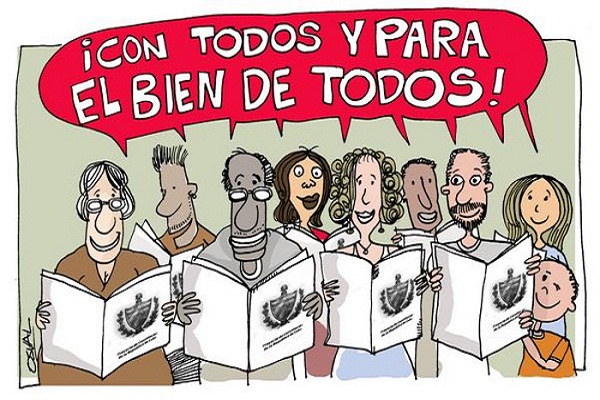 Camagüey, Sep 22. -More than 50% of the population has discussed the Draft Constitution in Camagüey municipality, as part of the referendum that Cuba's people started from August 13th until the middle of November.
Thus, Milaisa Batista reported it, an official of the Municipal Committee of the Communist Party during the discussion of the constitutional text, by the workers of the Provincial Direction of Computer and Electronic Youth Clubs (JCCE), its facilities in the Julio Antonio Mella district and Technology Forest.
In the initial moments of the encounter, José Julio Rea del Castillo, who proposed to add to article 21 of the draft, paragraph 95, to allow the import by funding of their own to all forms of property to carry out their functions.
"Because I can, for example, to develop a particular business, and if the State does not have the possibilities of importing the materials I need, the owner should have that facility;" he said.
Later, he also indicated as a way of addition that the Constitution endorses in this article about the acquisition of equal payment for work of equal value, which is a right we pursue, and not giving it as an accomplished one.
On the other hand, Nayía Ramírez Castro, suggested that in article 83, paragraph 217, where it says that "the State ensures access and free health services", the quality of the services should be added too.
"The water to consume must be potable, and with the quality required, taking into account that we pay the service, therefore its optimal state is important;" Yamis Iznaga, also worker of the Provincial Direction of Computer and Electronic Youth Clubs said it should be added,.
The term of age for the President of the nation exercises its charge sparked several opinions, where they proposed up to 65 years.
Lisbet Abreu said that "the new Governor must also play its functions until age 65, because he will be in his full mental faculties still at that age, and it has the necessary experience to represent a territory".
The collective also discussed about the time for the company and entity managers respond to delegates from the constituencies on issues affecting the voters, and agreed to make up to 15 days.
It was as well as workers from the Computer and Electronic Youth Clubs in Camagüey suggested modifications, additions, and elimination of some concepts, phrases or articles of the Constitution Draft of the Republic of Cuba, reaffirming that the popular consultation is the expression of the democratic and participatory nature of our society. (Jorge Luis Moreira Massagué/ Radio Cadena Agramonte) (Foto: Archivo)