Wednesday, October 3, 2018
The National Theatre Festival comes back to Camagüey
---
---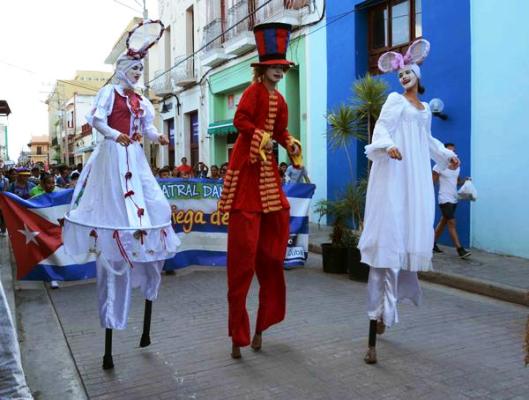 Camagüey, Oct 3. -The Camagüey National Theatre Festival is one of the inevitable topics here in any conversation these days, when the local public eagerly awaits its 17th edition, an atypical date, to say of its president, the Camagüey playwright Freddys Núñez Estenoz.
From next Saturday the usual spaces for criticism, exhibitions, the theater in progress, with proposals that are not finished yet, but make visible the future of the Cuban scene, and the sets selected for the event will occupy the city.
Works that were born on the tables of Camagüey will be present with Teatro del Espacio Interior and El hombre inmóvil, and with the companies Teatro de Luz and Arlequín which propose Hablando de Ionesco, an excellent piece played by children.
In addition, three visual arts exhibitions will be inaugurated during the most comprehensive festival of the scene in the largest of the Antilles.
Ten enclosed spaces and the the workers, the solidarity and Maceo squares will be the seat of the Festival, which begins on the 6th with the presentation of the work Hasta que el Facebook nos separe , from the promoter center of the humor.
This first presentation will be only for accredited ones, who will not be able to access to the main theatre on Sunday, at 9:00 pm, so that this space is completely reserved for the public.
Therefore, tickets for Sunday's presentation with the inaugural work will be on sale the same day, from 8:30 a.m. in the Coliseum of Padre Valencia street.
This is how the 27th National Theatre Festival will start in Camagüey, which from 6th to 14th of the current October will honor this city with the best of the Cuban tables seen in the last two years. (Dania Díaz Socarrás/ Radio Cadena Agramonte.) (Photo: Archive)