Wednesday, October 10, 2018
Raúl and Díaz-Canel preside Cuban commemoration act on the 150th anniversary of the fights for independence (+Photos)
---
---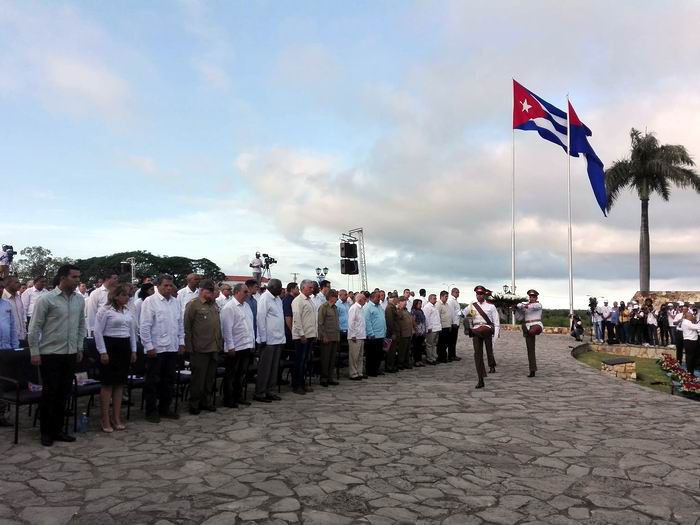 La Demajagua, Granma, Oct 10. -With the presence of Raúl Castro, first Secretary of the Central Committee of the Communist Party of Cuba, and Miguel Díaz-Canel, president of the Councils of State and Ministers, began just a few minutes ago, on this sacred altar of the nation, the ceremony for the 150th anniversary on the beginning of the first anti-colonial, anti-slavery and libertarian war in Cuba.
Before dozens of flags and images of Carlos Manuel de Céspedes and other patriots, thousands of citizens of Granma, representing the whole nation, are present in the emblematic site, symbol of value, decision and courage.
Declared National Monument in 1978, the place looks beautiful, after a capital restoration, a construction with more facilities in its interior and a new museum assembly.
At a time of high solemnity, the leaders placed a floral offering in honor to the father of the nation and 21 artillery bursts, while the concert band of Bayamo interpreted the national anthem.
The public wears the white color, as a symbol of freedom and the respect of thousands of children, youngsters and adults, different generations of Cubans faithful to the example of those initiators, which from October 10th, 1868 wielded the weapons in search of the independence dream, realized by Fidel Castro and other sons of this country almost 91 years later.
The original bell, used that day of glory, is witness to this exhibition of attachment to essences and the revolution, which includes songs, music and words of revolutionary reaffirmation. (ACN) (Photo: Estudios Revolución)