Friday, October 12, 2018
Training days and exchange of experiences on city tourism developed in Camagüey
---
---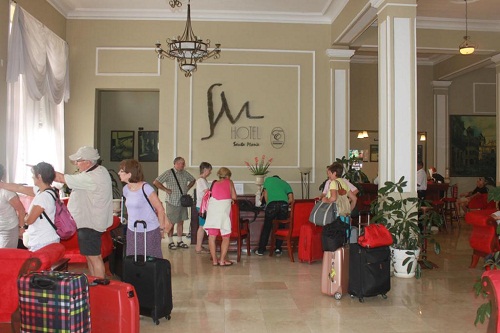 Camagüey, Oct 12. -To satisfy the growing demand of foreign visitors to the city of Camagüey and update the knowledge about current trends in gastronomy and cocktails, the Santa María Provincial City Tourism Company, develops a day of training and exchanges of experiences.
From the participation of several workers in the 8th International Gastronomic Seminar Gourmet Excellences, which occurred in Havana, the experiences there acquired on various topics that compete in the work of the entity Camagüey are socialized, said Liliana Ollet Herrera, Institutional Communication Specialist.

Among the aspects discussed are little diffused elements of the so-called cocktail rebellious, as the origin of the drink Cuba Libre, which does not date from the stage of American domination, as many believe, but from the colony, said Jesús Alarcón Millet, President of the Bartenders ' Association in the aforementioned company.
There was also talk of more known historical issues, among them the origin of the daiquiri, in the hills of the same name of the eastern region of Cuba, but popularized in the capital of the island, commented the bartender of the Bar Casablanca, located in the Alley of the Miracles of the City of the Tinajones.
Of great interest was the dissertation on the neurosciences of flavor, which explains how through the senses is achieved the taste, because in this tasting influences the palate and the bartender, through dialogue and communication with the client.
It was also about the new trends of the cocktail bar, which include, for example, the variation of certain ingredients in some traditional preparations to be enjoyed by the most demanding and diverse public.
In these days that the Santa María Provincial City Tourism Company develops, there will be room for the services of the sommelier and Cuban cuisine, regarding the Day of the Culture and the Month of the Quality, that happens in October.
The entity has 22 units in Camagüey, and of them, the most recently opened were The Station, in the Paseo Railway Thematic Park; The tents, at the intersection of Martí Street and the Central highway; and located on the top floor of the Technological Walk.

In the Web publication Caribbean News Digital is stated that the 8th edition of the International Gastronomic Seminar Gourmet Excellences was dedicated to the Tapa as culinary experience, and to the declaration of Havana as the Latin American Capital of the Cocktail lounge. Spain was the country guest of honor and it became a space of inspiration and reflection for the state and non-state sector linked to this task. (Radio Cadena Agramonte) (Photo: File)