Friday, October 19, 2018
Deputy President Morales Ojeda and Cuban Health Minister visit Camagüey Provincial Hospital (+ Fotos)
---
---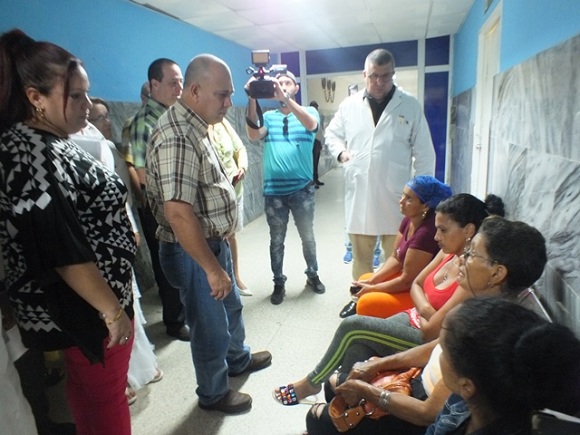 Camagüey, Oct 19. -The exchange with patients in the emergency room of the University Provincial Hospital Manuel Ascunce Domenech, appreciated this Thursday night the end of the first day of work developed in Camagüey by the member of the Political Bureau of the Communist Party of Cuba, Roberto Morales Ojeda.
The Deputy-President of the Councils of State and Ministers, accompanied by the public health head, José Ángel Portal Miranda, knew about the bonanzas and difficulties faced by the collective of the prestigious welfare entity to carry out their human work, and actions as well to solve problems that still obscure those purposes.
In that sense, Morales Ojeda urged to look for the causes of the deficiencies to solve them, and he pointed out as a matter to reverse in the shortest term, the high influx of people to the emergency room of the hospital, without having been treated in the levels of primary attention, in other words family doctor's office or polyclinic.
Previously, the deputy president received detailed information about the current school year at different levels of education, from the children's kindergarten to the university, including medical, sporting and cultural education.
He also exchanged with members of the Union of Young Communists, the Organization of Pioneers José Martí, and the Federation of Students of Middle and university education.
In the meeting, which was attended by Ena Elsa Velázquez Cobiella, Minister of Education, it was known that the province has the required resources to ensure the development of the first semester, for which it was recommended to make the best use of these human and financial possibilities. (Text and potos: Pedro Paneque Ruiz/ Radio Cadena Agramonte)