Friday, October 19, 2018
Díaz-Canel assesses important socio-economic programs in Camagüey (+ Fotos)
---
---
Camagüey, Oct 19. -On his second day in Camagüey, as part as a government visit, the President of the Councils of State and Ministers of Cuba, Miguel Díaz-Canel Bermúdez, led a meeting this morning with executives of the Company of Commerce and Gastronomy in the province.
At the meeting, the head of State drew attention to the need to stop the defaulted chain in the domestic trade system, and consequently to establish mechanisms for effective control and compliance of the conciliations and deposits.
Díaz-Canel said that Camagüey is one of the provinces that has worked the most in the revival of gastronomy and those efforts have to be reversed in the quality of services and salaries of workers.
Once this meeting was concluded, according to the journalist Demetrio Villaurrutia in his Facebook profile, the Cuban President, together with the directors of the territory, analyzed the issue of control and supervision of fuels; on which, he has said repeatedly, that all kinds of measures must be taken to avoid this scourge which is demoralizing and not being solved.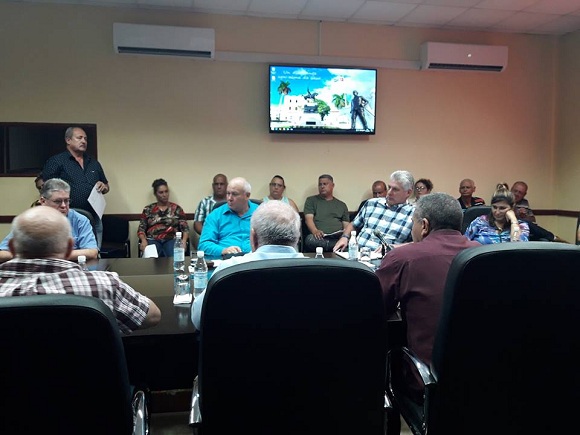 Then, Díaz-Canel moved to Santa Cecilia Convention Center, where, together with the Minister of Communications, Jorge Luis Perdomo, participates in the analysis of the implementation of the politics of computerization of the Cuban society in Camagüey.
In the meeting, the Cuban president and head of the branch, knew the local projects of computerization in Camagüey, like the system of information management of public good in Republic street and the alley of miracles, in Ignacio Agramonte street.
For his part, Díaz-Canel reiterated that by the end of the current year or beginning of the other, the first stage of the so-called electronic government must be completed, for which it is necessary that all the institutions move forward to the conception of their digital platforms. (RCA digital editing) (Photos: Taken from Demetrio Villaurrutia, Bárbara Suárez and Carmen Luisa Hernández Facebook profiles)