Saturday, October 20, 2018
Camagüey for a greater agricultural production
---
---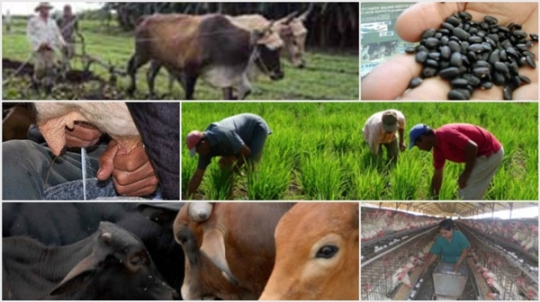 Camagüey, Oct 20. -The National Association of Small Farmers (ANAP) in Camagüey works in a comprehensive manner to implement the advances of science and technology in the productive scenario of each farm, in order to achieve livestock development, to accomplish the delivery of milk to the industry and to increase the planting of various crops, vegetables and fruits.
Aida Díaz Figueredo, president of the ANAP in this province, emphasized that in its 13 municipalities they are advancing towards a sustainable agriculture, and in about 250 farms, the use of agro-ecological practices, which shows the change towards agriculture in harmony with the environment stands out.
The use of humus of earthworm, compost and organic matter allows the return to the land of a part of the mineral extractions carried out by the crops and they improve the yields of the crops, by their fertilizing and healing action of the soil.
In the effort to increase the yields that allow the food sovereignty and the substitution of imports, new producers are incorporated to the sowing of popular rice, to the development of the programs, fruit, tobacco, coffee growers, beekeepers, of minor livestock and the promotion of nurseries.
The members of the ANAP in Camagüey also work to strengthen the work between the grassroots organizations and the board of directors of each cooperative, to keep active the farmer youth brigades, to foment the circles of interest of agronomy and to achieve the rural settlements' inhabitants better living and working conditions. (Maykel Torres La Rosa/ Radio Cadena Agramonte) (Photo:File)