Wednesday, October 31, 2018
Cuban Fund of Cultural Assets celebrates three decades in Camagüey
---
---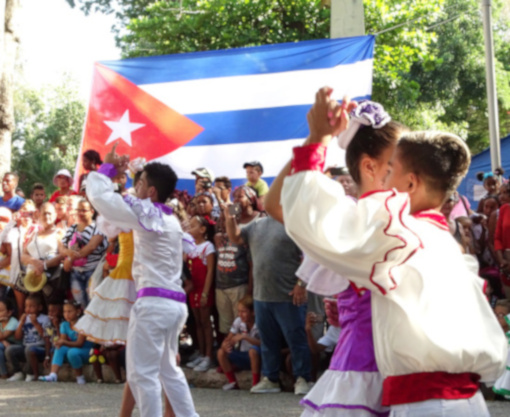 Camagüey, Oct 31. -The Camagüey subsidiary of the Cuban Fund of Cultural Assets (FCBC) recognized several of its founders, workers, institutions and agencies of the territory, as part of the celebrations for its 30 years of creation.
Artisans, fine artists and workers in general were honored for their work, at the base of the monument of the Revolution Square Major General Ignacio Agramonte, as well as institutions that have collaborated with the work of the FCBC, to whom was dedicated the afternoon in its own seat.
One of the acknowledgement prizes was the special recognition given to the director of radio programs Marta Ruiz, from the municipal station Radio Camagüey, for helping the diffusion of the action of the Fund.
Carmen Hernández Requejo, director of the Camagüey subsidiary of the FCBC, which also celebrates its four decades in the country, said that this anniversary is a starting point to conquer new goals and look ahead with the goal of making the art and Cuban culture greater.
Among the actions to celebrate the date was also the opening of a collective exhibition conceived as a journey of the artistic work that the subsidiary has generated in this city.
The exhibition named " The Cuban Fund of Cultural Assets in Camagüey, 30 years later", with final ellipsis that includes the contribution of each artist, was available to visitors at the fifteen-year-old gallery Amalia in Camagüey headquarters of the referred institution, where the highest authorities of the province, creators, executives of the cultural sector and personalities of Camagüey fine arts were invited.
The Director of Organization and Development of the FCBC headquarters, Fernando Morgan Scott participated as well, who in statements to Radio Cadena Agramonte praised the performance of those who make possible the achievements of that entity, which aims to advance towards business development.
This was the closing of the many celebrations that since last September have occupied the city of Camagüey, about the 30 years of FCBC in the province and 40 in the country, an essential institution for the development of the art in Cuba. (Dania Díaz Socarrás/ Radio Cadena Agramonte.) (Image: File)