Wednesday, November 7, 2018
PAHO claims that Cuba is a primary healthcare example
---
---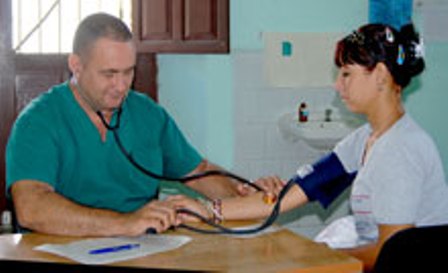 Havana, Nov. 7-Cuba is an example of primary healthcare and the service that nurses provide to the population, said an official of the Pan American Health Organization (PAHO).
This island has the highest rate of nurses in Latin America and the Caribbean, and that is why we decide to celebrate the 16th Pan American Symposium on Nursing Research in Havana, said the PAHO Nursing and Health technicians' advisor to Prensa Latina , Silvia Cassiani.
Also, she added, the appointment is an auspicious framework to celebrate the 40th anniversary of the Alma-Ata declaration of 1978, where nations expressed responsibility for primary healthcare services (APS).
The official of PAHO highlighted the presence of the Cuban Minister of Health, José Ángel Portal, in the opening of this conclave. His participation values the work of Cuban nursing, she stressed.
In saying of Cassiani, we are at an opportune time to discuss the advancement of nursing education in the colloquium and the training of researchers in this discipline of medicine.
With nurses and health professionals, countries can gain access to universal coverage and achieve sustainable development goals, she considered.
As part of the challenges that we have, we must make the training of nurses respond to the needs that communities have to strengthen the APS, he added.
He responded that the exchange between representatives from 21 countries contributes to the advancement of Latin American and Caribbean nursing when answering to the expectations of the symposium.
During the opening of the event, the head of the Ministry of Health of Cuba stressed that currently 36000 collaborators of the island work in 66 countries and five thousand 930 of them belong to the nursing activity.
Portal ratified his country's commitment to continue strengthening the national system as part of the efforts to achieve universal health.
During the meeting it will be discussed until next Friday 815 papers, 610 of them with an open theme and 190 posters, said the President of the Scientific Committee, Lázaro Hernández. (PL)(Photo: File)