Friday, November 9, 2018
Cuba and Vietnam ratify will to boost economic relations
---
---
By Alberto Salazar Gutiérrez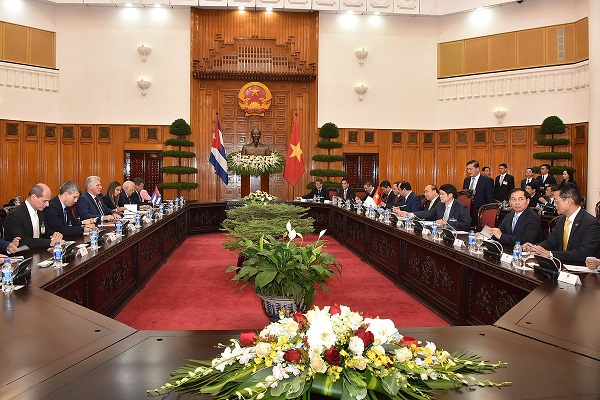 Hanoi, Nov 9. -Cuba and Vietnam ratified today the will of catalyzing their economic and cooperation relations to raise them to the level of political links, during a meeting held today between their heads of government, Miguel Díaz-Canel and Nguyen Xuan Phuc.
In an atmosphere of visible cordiality, both leaders congratulated themselves for the signing of a bilateral trade agreement, barely half hour before and in presence of President Nguyen Phu Trong, of a new trade agreement.

Both countries worked hard over the last few months to give definite shape to the document which will govern their economic, commercial and cooperation links over the next years.

Over the last five years, the commercial exchange in one and another sense were around the 240 million dollars per year, but the intention is to double it in the short term and reaffirm Vietnam as the second most important partner of Cuba in Asia.

Díaz-Canel and Xuan Phuc agreed that greater tuning of the political, economic and cooperation relations can give a valuable contribution to the exchange of experiences on the processes of socialist construction taking place in their countries according to their specific situations.

The president of the Councils of State and Ministers of Cuba stressed the participation of Vietnamese business persons in the revitalization of the island's economy through diverse projects and, consequently, in the process of updating its economic and social model.

Vietnam's prime minister, on the other hand, said it is the will that participation is increasing and helps strengthen the historic relations between both nations and with tangible benefits for their peoples.

In the first day of his official and friendly visit to Vietnam, the Cuban president met beforehand with his peer and secretary general of the Communist Party of Vietnam, Nguyen Phu Trong.

He expressed his conviction that Cuba would be strengthened by the processes of renewal of its economic-social model and of discussion and approval of a new Constitution.

Both leaders reviewed bilateral links and expressed wishes for the recently signed trade agreement that is translated into mutual benefits and becomes a paradigm of long-standing friendship sowed by historic leaders of both nations, Fidel Castro and Ho Chi Minh.

On this occasion, President Phu Trong imposed on his Cuban peer the Order of Ho-Chi-Minh, one of the two highest awards bestowed by Vietnam on dignitaries in recognition for his political merits and contributions to friendship between both nations.

Díaz-Canel's agenda includes today a meeting with president of the National Assembly, Nguyen Thi Kim Ngan, and his participation in a business round with local entrepreneurs.

At the start of his tour, Cuban president was first in France -a brief stopover during which he met with Prime Minister Eduard Philippe- and then he made several official visits to Russia, North Korea and China, where the highest authorities of those nations received him. (Taken from Prensa Latina)
More from this section ...