Tuesday, November 13, 2018
Cheers to Camagüey, a Qva Libre! (+ Photos)
---
---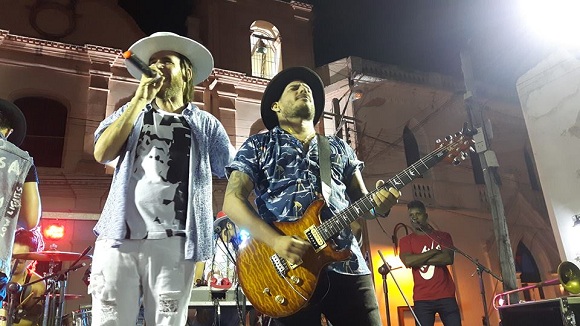 Camagüey, Nov 13. -This time there were few hats, but the excitement and the spectacle that characterizes the musical group Qva Libre that gave a concert to Camagüey to celebrate its title of city was not missed this Monday.
We observe new faces that print a fresh seal on the group. And of course the sonority has also changed; it is now presented with the usual fusion and a little of what it is heard the most in music.
Between the colorful and the peculiar costumes, there was shown a fusion in the band as well as in their themes. The new acquisition, the young Kendaya, of 21 years, won the admiration of the public, while the most experienced ones, the Russian and the chicken, approached us to those beginnings of the troop of Carlos Díaz, the crazy sane ones that make of the Cuban music an exquisite pleasure.
Magui Blue, the Camagüey singer, performed themes as Juntos pero revueltos (Together but scrambled) and the most recent single Amor Prohibido (Forbidden love), which is included in the new album Otro palo por tu culpa (Another stick because of you).
It was so that in the Plaza del Carmen people sang, danced and enjoyed themselves until they sweated. As they said, there musical tastes did not matter; we were all Cubans.
There were few songs, and although people wanted to enjoy more, they made a tour of the albums Psicodélica Estelar (Stellar Psychedelic), Rock duro mami (Hard rock mommy) and Los Caballeros de la noche (Knights of the night).
They also premiered songs of the soundtrack of Qva Libre.La película. Historia de un músico, audiovisual project directed by the filmmaker Jose Rojas, that interweaves stories that have as protagonist the members of the group.
So energetic was the concert by the city, a special drink and to the Cuban way; Cheers to Camagüey: a QVA Libre. (Yusarys Benito Deliano/Radio Cadena Agramonte) (Photos: Cristian Rojas Rosales)